APSU Sports Information Office

Clarksville, TN – Despite losing a pair of sister-act scoring machines in Tatiana and Natalia Ariza and Andy and Joceline Quiceno to graduation at the end of last season, Austin Peay State University's tradition of high-scoring siblings looks to still be going strong.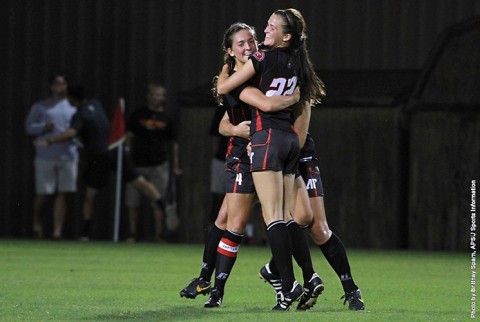 Freshman
Sophia Fabbro
notched her first career goal and her sister Gina scored twice to give Austin Peay a 3-1 victory against Eastern Kentucky in its Ohio Valley Conference opener, Friday.
The Lady Govs (2-7-0, 1-0-0 OVC) win their OVC opener for the second straight year. Eastern Kentucky falls to 2-8-0 (0-1-0 OVC).
The Lady Govs got going quick in this one, with the younger Fabbro slamming home the rebound from a Caroline Wistrom shot to give Austin Peay a lead in the sixth minute.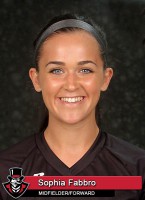 In the 17th, her sister got in on the action. A quick combo from junior Courtney Sheppard and senior Claire Pultz gave the elder Fabbro a chance to beat her defender off the dribble, and she smashed a shot into the lower left corner of the net to put Austin Peay up 2-0.
Eastern Kentucky's attack was stymied in the first half, with the Colonels held to just six shots. However, the visitors picked up the pace in the second half, forcing five saves from netminder Nikki Filippone – the junior Canadian became the first Austin Peay keeper to play the full 90 minutes this season.
Filippone's shining moment came in the 53rd minute. A penalty in the box gave the Colonels a chance at getting on the board, but Filippone pulled off an incredible save to hold Eastern Kentucky at bay.
The Colonels did get a goal thanks to a 62nd-minute cross from Paige Larkin that was headed in by Katie Bright. But Austin Peay kept the pedal to the metal and got an insurance goal from Gina Fabbro in the 81st minute, who collected a through ball from sophomore Merritt Monger and slotted it into the lower-left corner to put it out of reach.
Filippone got the win and snapped a six-match losing streak for the Lady Govs, making six saves in the process. Anna Hall made four saves for the Colonels in the loss.
Austin Peay returns to action Sunday when the Lady Govs travel deep into Kentucky for a noon contest against defending OVC Tournament champion Morehead State.
Box Score
Austin Peay (2-7-0 (1-0-0 OVC)) vs Eastern Kentucky (2-8-0 (0-1-0 OVC))
| Goals By Period | 1 | 2 | Total |
| --- | --- | --- | --- |
| Eastern Kentucky | 0 | 1 | 1 |
| Austin Peay | 2 | 1 | 3 |
| Goal | Time | Team | Goal Scorer | Assists | Description |
| --- | --- | --- | --- | --- | --- |
| 1. | 05:12 | APSU | Sophia Fabbro (1) | Caroline Wistrom | put away rebound off of original saved shot |
| 2. | 16:39 | APSU | Gina Fabbro (2) | Courtney Sheppard , Claire Pultz | Beat her defender off the dribble and blasted the shot into the lower left corner |
| 3. | 61:16 | EKU | Katie Bright (0) | Paige Larkin | Headed home a cross from the right wing |
| 4. | 80:18 | APSU | Gina Fabbro (0) | Merritt Monger | Collected through ball and slotted into the lower left corner |
 Eastern Kentucky
| ## | Goalie | Minutes | GA | Saves |
| --- | --- | --- | --- | --- |
| 01 | Anna Hall | 90:00 | 3 | 4 |
Pos
##
Player
Sh
SOG
G
A
Fouls
GK
01
Anna Hall
0
0
0
0
0
D
2
Mikayla Brillon
0
0
0
0
0
D
5
Paige Larkin
0
0
0
1
0
6
Kaylynn Brown
0
0
0
0
0
F
9
Emmi Carroll
1
0
0
0
0
14
Katie Bright
5
3
1
0
0
17
Ashley Ryan
1
1
0
0
0
D
21
Makenna Sullivan
0
0
0
0
0
22
Mikala Ferguson
2
2
0
0
0
D
23
Merrissa Vault
0
0
0
0
0
F
26
Cassie Smith
1
1
0
0
0
–Substitutes–
TM
TEAM
0
0
0
0
10
10
Devon Saini
0
0
0
0
0
13
Dani Cant
0
0
0
0
0
F
15
Logan Harvey
1
1
0
0
0
16
Amani Thomas
0
0
0
0
0
D
18
Emily D'italia
0
0
0
0
0
Totals
11
8
1
1
10
Austin Peay