Clarksville, TN – Senior outside hitter Jada Stotts recorded 22 kills, including four in the fifth set, as Austin Peay State University's volleyball team eked past UT Martin in five sets (28-26, 25-21, 22-25, 23-25, 15-11), in the Ohio Valley Conference opener for both teams, Friday night, at the Dunn Center.
During the first set, Stotts became the 13th Lady Govs hitter to record 1,000 career kills and finished the match with 1,017 kills. She broke through the 1,000-kill plateau with seven kills in the opening set then seemingly bided her time until making an impact in the fifth set.
In the fifth set, Austin Peay (7-10, 0-1 OVC) used five consecutive points, with kills by Stotts and Strother plus a trio of attack errors by UT Martin, to build a 6-2 lead and force a UTM timeout.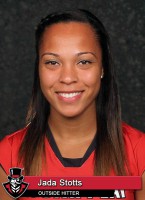 The Skyhawks charged back with 7-1 run to take a 9-7 lead after a pair of Lady Govs errors. Stotts would help Austin Peay gain control of the set with three kills in the final four points for the 15-11 win.
Austin Peay won the opening two sets thanks to an incredibly efficient offensive attack. The Lady Govs survived the first set – which featured 18 ties and five lead changes – thanks to an 18-kill effort that saw it post a .333 attack percentage.
An easier second set was made possible to a 14-kill, .379-attack performance effort, that was keyed by sophomore outside hitter Sammie Ebright's seven kills and .875 attack percentage.
However, UT Martin (7-8, 0-1 OVC) turned the tables in sets three and four to reel Austin Peay back in. The Skyhawks recorded 17 kills in each set, posting a .375 attack percentage in Set 3 and a .286 mark in Set 4.
The Lady Govs aided their foe with 11 total attack errors in the two sets, setting up the decisive fifth set.
Stotts 22 kills led Austin Peay as she posted a .306 attack percentage. Ebright chipped in 16 kills – seven coming in the second set and another six in the third set – at a .333 attack percentage. Junior outside hitter Samantha Strother finished with 12 kills.
UT Martin senior outside hitter Emily Keaton also surpassed the 1,000-kill plateau, as her match-best 26-kill performance pushed her to 1,009 career kills. Senior outside hitter Allie Whimpey added 15 kills and sophomore middle blocker Julia Devinney finished with 11 kills and a .474 attack percentage.
Austin Peay continues its four-match OVC homestand with a 2:00pm, Saturday contest against Southeast Missouri. The Redhawks lost a three-set decision at Murray State, Friday, to open OVC play.
Box Score
UT Martin 2 vs Austin Peay 3
| Set Scores | | 1 | 2 | 3 | 4 | 5 | Team Records |
| --- | --- | --- | --- | --- | --- | --- | --- |
| Austin Peay | (3) | 28 | 25 | 22 | 23 | 15 | 7-10, 1-0 OVC |
| UT Martin | (2) | 26 | 21 | 25 | 25 | 11 | 7-8, 0-1 OVC |
UT Martin (7-8, 0-1 OVC)
| ## | Player | SP | K | E | TA | PCT | A | E | SA | SE | RE | DIG | BS | BA | Pts |
| --- | --- | --- | --- | --- | --- | --- | --- | --- | --- | --- | --- | --- | --- | --- | --- |
| 1 | BERGREN, Madison | 5 | 6 | 2 | 15 | .267 | 62 | 0 | 0 | 1 | 0 | 13 | 0 | 0 | 6.0 |
| 3 | KEATON, Emily | 5 | 26 | 5 | 59 | .356 | 3 | 0 | 2 | 2 | 2 | 21 | 0 | 1 | 28.5 |
| 5 | ERVES, Alisha | 5 | 9 | 3 | 25 | .240 | 1 | 0 | 0 | 0 | 0 | 0 | 2 | 1 | 11.5 |
| 9 | DEVINNEY, Julia | 5 | 11 | 2 | 19 | .474 | 0 | 0 | 0 | 0 | 0 | 1 | 1 | 1 | 12.5 |
| 13 | WHIMPEY, Allie | 5 | 15 | 6 | 36 | .250 | 1 | 0 | 2 | 3 | 0 | 6 | 0 | 1 | 17.5 |
| 35 | WESSLING, Madison | 5 | 9 | 6 | 39 | .077 | 0 | 0 | 0 | 0 | 0 | 2 | 2 | 0 | 11.0 |
| 2 | LARSON, Colleen | 5 | 0 | 0 | 0 | .000 | 0 | 0 | 0 | 0 | 0 | 8 | 0 | 0 | 0.0 |
| 4 | BOWLES, Chelsea | 5 | 0 | 0 | 0 | .000 | 2 | 0 | 1 | 3 | 1 | 23 | 0 | 0 | 1.0 |
| 10 | CERIANI, Lael | 2 | 0 | 0 | 0 | .000 | 0 | 0 | 0 | 0 | 0 | 0 | 0 | 0 | 0.0 |
| 18 | McLAUGHLIN, Michelle | 5 | 1 | 0 | 5 | .200 | 3 | 0 | 0 | 3 | 1 | 14 | 0 | 0 | 1.0 |
| TM | TEAM | 1 | 0 | 0 | 0 | .000 | 0 | 0 | 0 | 0 | 1 | 0 | 0 | 0 | 0.0 |
| | Totals | 48 | 77 | 24 | 198 | .268 | 72 | 0 | 5 | 12 | 5 | 88 | 5 | 4 | 89.0 |
Team Attack By Set
Set
K
E
TA
Pct
1
18
6
45
.267
2
16
8
35
.229
3
17
2
40
.375
4
17
3
49
.286
5
9
5
29
.138
Total Team Blocks: 7.0
LEADERS:
Kills-Aces-Blocks:KEATON, Emily (26-2-1); WHIMPEY, Allie (15-2-1); DEVINNEY, Julia (11-0-2); ERVES, Alisha (9-0-3); WESSLING, Madison (9-0-2); BERGREN, Madison (6-0-0); McLAUGHLIN, Michelle (1-0-0)Assists:

BERGREN, Madison (62); KEATON, Emily (3); McLAUGHLIN, Michelle (3); BOWLES, Chelsea (2); ERVES, Alisha (1); WHIMPEY, Allie (1)

Digs: BOWLES, Chelsea (23); KEATON, Emily (21); McLAUGHLIN, Michelle (14); BERGREN, Madison (13); LARSON, Colleen (8); WHIMPEY, Allie (6); WESSLING, Madison (2); DEVINNEY, Julia (1)
Austin Peay (7-10, 1-0 OVC)
| ## | Player | SP | K | E | TA | PCT | A | E | SA | SE | RE | DIG | BS | BA | Pts |
| --- | --- | --- | --- | --- | --- | --- | --- | --- | --- | --- | --- | --- | --- | --- | --- |
| 4 | EBRIGHT, Sammie | 5 | 16 | 5 | 33 | .333 | 0 | 0 | 2 | 0 | 0 | 8 | 2 | 0 | 20.0 |
| 7 | MARSELLIS, Aubrey | 5 | 2 | 1 | 9 | .111 | 55 | 0 | 0 | 1 | 0 | 15 | 0 | 2 | 3.0 |
| 8 | LANDON, Liz | 5 | 8 | 4 | 26 | .154 | 3 | 0 | 0 | 1 | 0 | 0 | 1 | 1 | 9.5 |
| 10 | STROTHER, Samantha | 5 | 12 | 3 | 39 | .231 | 1 | 0 | 1 | 0 | 1 | 11 | 0 | 0 | 13.0 |
| 14 | STOTTS, Jada | 5 | 22 | 3 | 62 | .306 | 1 | 0 | 1 | 2 | 3 | 23 | 1 | 1 | 24.5 |
| 15 | PLYBON, Hillary | 1 | 2 | 1 | 4 | .250 | 1 | 0 | 0 | 1 | 0 | 0 | 0 | 1 | 2.5 |
| 3 | ADAMS, April | 5 | 0 | 0 | 0 | .000 | 2 | 0 | 0 | 0 | 1 | 17 | 0 | 0 | 0.0 |
| 5 | BALES, Lizzy | 3 | 0 | 0 | 0 | .000 | 0 | 0 | 1 | 0 | 0 | 3 | 0 | 0 | 1.0 |
| 6 | SLAY, Ashley | 4 | 8 | 1 | 16 | .438 | 1 | 0 | 0 | 0 | 0 | 0 | 0 | 1 | 8.5 |
| 13 | LITCHFIELD, Syd | 2 | 0 | 0 | 0 | .000 | 0 | 0 | 0 | 0 | 0 | 7 | 0 | 0 | 0.0 |
| TM | TEAM | 1 | 0 | 0 | 0 | .000 | 0 | 0 | 0 | 0 | 0 | 0 | 0 | 0 | 0.0 |
| | Totals | 41 | 70 | 18 | 189 | .275 | 64 | 0 | 5 | 5 | 5 | 84 | 4 | 6 | 82.0 |
Team Attack By Set
Set
K
E
TA
Pct
1
18
3
45
.333
2
14
3
29
.379
3
18
5
50
.260
4
12
6
45
.133
5
8
1
20
.350
Total Team Blocks: 7.0
LEADERS:
Kills-Aces-Blocks:STOTTS, Jada (22-1-2); EBRIGHT, Sammie (16-2-2); STROTHER, Samantha (12-1-0); LANDON, Liz (8-0-2); SLAY, Ashley (8-0-1); MARSELLIS, Aubrey (2-0-2); PLYBON, Hillary (2-0-1)Assists:

MARSELLIS, Aubrey (55); LANDON, Liz (3); ADAMS, April (2); STROTHER, Samantha (1); STOTTS, Jada (1); PLYBON, Hillary (1); SLAY, Ashley (1)

Digs: STOTTS, Jada (23); ADAMS, April (17); MARSELLIS, Aubrey (15); STROTHER, Samantha (11); EBRIGHT, Sammie (8); LITCHFIELD, Syd (7); BALES, Lizzy (3)