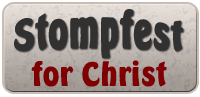 Clarksville, TN – On Saturday, October 11th step teams, praise dancers and mime groups will come together at Stomp-Fest for Christ and raise the rafters at Clement Auditorium. The event will be held at Austin Peay State University.
This is the 14th year for this ministry, and it has become one of the most popular and anticipated gospel events in Clarksville. This year's event will be hosted by Mary Franklin, a minister of the Gospel, who is on fire for God.
Special music will be provided by a new and exciting local group called Not Easily Broken, a group that consists of very talented singers. They are anointed and ready to praise the lord. They recently performed at River-Fest. Dionne Jermeia will also be performing. She will be performing songs from her most recent self-entitled CD. It's an awesome project. Dionne has performed all over the nation, and will bless you with her gift of song.
Other performances that will take place between these awesome and gifted singers will include an up-tempo praise dance performance with wings performed by Danzoras de el Reino (Dancers for the Kingdom), from Christian Fellowship Flock Church!
Admission is only $5.00 and you can expect to be entertained and get your praise on!
The groups that are scheduled to minister are "Moving Forward" from Life Changing Ministries, "Expressions Revealed" and" Daughters of Praise" from West Gate Christian Center, the "Hype Tight Scholars" from Austin Peay State University, and back to perform after a brief hiatus is the highly favored group Uninhibited Praise.
Also performing for the first time at Stomp-Fest is the "Vessels of Honor" from the City of David Christian Center. They are a gifted group of young people prepared to bless the audience.
Steven Hawkins gave the crowd a dynamic performance last year and is expected to partner with another dancer and together put their God given talents on display on Saturday night, Alpha Xi a community group of steppers established by Alphonse Prather of Remnant of Faith has been a regular at Stomp-Fest and always delight the crowd with creative choreography and entertaining dance moves. We will also be blessed with some Gospel Hip Hop from Toney Dabney. You'll enjoy his creative and entertaining style!
"This is going to be a high praise event, and we are looking forward to lifting up the name of Jesus!" said Alphonse Prather. Remnant of Faith church is the host church for Stompfest for Christ.
This is a show that the entire family can enjoy. Come on out and have a good time. Refreshments will be available to purchase as well as DVD's of the show.
For more information please call 931.542-6849.
Photo Gallery