Austin Peay Sports Information

Clarksville, TN – Austin Peay State University women's soccer team heads north for a pivotal Ohio Valley Conference weekend when the Lady Govs face Southeast Missouri (6:30pm, Friday) and SIU Edwardsville (1:00pm, Sunday) in conference action.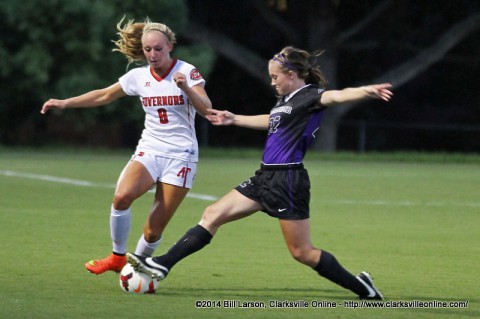 Austin Peay (2-9-0, 1-2-0 OVC) let an early lead slip away last weekend at Eastern Illinois, dropping a match to the Panthers for the first time in five seasons.
It represented a bit of a setback for a Lady Govs squad that looked much-improved in its first weekend of OVC play after taking its share of lumps during a difficult non-conference schedule.
Sophomore Gina Fabbro has ignited the offense but needs some help up top. The Coquitlam, B.C., native has four goals in the last four games, but only two other Lady Govs – her sister Sophia and sophomore Alyssa Plowman – have scored during that time.
Southeast Missouri (5-4-0, 2-1-0 OVC) has seen a stingy defense help its rise to the top half of the OVC table. Keeper Kindra Lierz is allowing less than a goal per match (0.89 GAA), third-best in the OVC, offsetting an offense that ranks in the middle of the pack in the OVC in scoring (1.56 goals/g, fifth).
SIU Edwardsville (6-4-1, 3-0-0 OVC) continued a tradition of solid defending and added some scoring punch this season. Eight Cougars have scored goals this season, led by Michelle Auer with five, and SIUE still finds itself at the top half of the OVC in goals against average (1.39, fifth).
Last Time Against This Weekend's Opponents
The Lady Govs well remember their last meeting with SEMO – it was in the first round of the 2013 OVC Championship, and Austin Peay won a 1-0 thriller to advance to the semifinals thanks to a late Shelby Olszewski goal. The Lady Govs and Redhawks drew 1-1 on Sept. 29, 2013 as well.
Austin Peay came out on the wrong side of a 1-0 meeting against SIU Edwardsville the last time these squads squared off, October 13th, 2013. Jennifer Pelley made four saves and Christine Martinez scored a late goal to give the guests the victory at Morgan Brothers Field.
All-time, Austin Peay is 4-9-2 against Southeast Missouri, and are unbeaten in the last three meetings between the two. The Lady Govs are 3-1-2 against the Cougars.
Keep An Eye On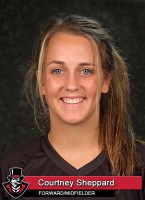 Fabbro needs one goal to tie Erica Dengler (2003-06) and Kaylee Yago (2002-05) for sixth all-time in Austin Peay's record-book with 12.
Both junior Courtney Sheppard and senior Claire Pultz need two assists to break into the top-10 all-time. Pultz's next assist will tie her with a multitude of Lady Govs for ninth on the single-season lists with four helpers.
APSU Lady Govs Online
Be sure to follow all the Lady Govs action at www.LetsGoPeay.com , and check them out on Twitter (@AustinPeaySocr) and by liking the Austin Peay's Official Athletics Facebook page. Live stats will be available during the match at LetsGoPeay.com, while a live stream of the match will be available on the OVC Digital Network. Postgame video from most home and select road events can be found at www.youtube.com/CultureofExcellence
Video – Gina Fabbro