APSU Sports Information

Clarksville, TN – Austin Peay State University's volleyball team suffered through its most error-prone outing this season and fell in four sets (20-25, 16-25, 29-27, 20-25) to Eastern Illinois, Friday night, in Ohio Valley Conference action at the Dunn Center.
The final score line was a secondary concern for Austin Peay as they saw a key player return from injury and another forced to the sideline due to an injury.
Senior middle blocker Hillary Plybon returned to the lineup and played the final three sets.
However, Austin Peay saw senior outside hitter Jada Stotts leave the match after a collision in the third set and did not return.
Austin Peay (10-12, 5-4 OVC) could not find its stride offensively throughout the match. The Lady Govs committed a season-high 35 attack errors in the contest, including 11 in the first set and 10 in the second frame.
"Obviously, we committed to many mistakes on our side of the net tonight," said Lady Govs head coach Taylor Mott. "I believe we were on our heels at times and we didn't play with the energy we needed. I was proud of the way we rallied when Jada left the court. I thought that would carry into the fourth set but Eastern Illinois did a good job of keeping us off balance."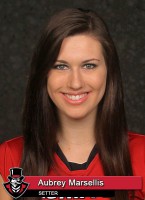 In the third set, the Lady Govs trailed 11-8 when Stotts collided with a teammate at the net. After the point, Stotts walked off the court under her own power, but would not return. She would watch her teammates rally from the 12-8 deficit to tie the score at 16-16 thanks to a block by sophomore Sammie Ebright and freshman Ashley Slay.
Austin Peay would build a four-point, 23-19, lead in the frame after a four-point rally capped by another block – this one by Slay and junior setter Aubrey Marsellis.
However, Eastern Illinois battle back and tied the set thanks to an APSU attack error. Austin Peay would not surrender the lead, but saw four set points denied. The Lady Govs got their fifth set point after an Ebright kill and won the set when Ebright hit a service ace for the 29-27 victory.
Eastern Illinois (10-12, 4-5 OVC) recovered in the fourth set, recording 14 kills and a .258 attack percentage. The Panthers used a 9-4 run to build a five-point, 14-9 lead and would not look back, and secured the season series sweep with a 25-20 set win.
Ebright led Austin Peay with a 12-kill performance. Plybon added nine kills and a team-leading .600 attack percentage in her return to the court. Austin Peay used 12 players in the match. The Lady Govs finished with 52 kills but their 35 errors resulted in a .106 attack percentage.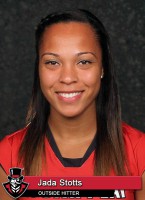 "Sammie came up big for us tonight," said Mott. "But I was impressed with Hillary's (Plybon) performance in her first night back on the court; she did a little of everything for us. We've got to regroup and get back at it tomorrow, it will be another tough match."
Chelsea Lee led Eastern Illinois with a 15-kill performance while Abby Saalfrank added 11 kills. Setter Marah Bradbury added seven kills and finished with a .538 attack percentage.  The Panthers recorded 51 kills and a .230 attack percentage in the victory.
Austin Peay continues its four-match homestand with a 2:00pm, Saturday contest against SIU Edwardsville.
Box Score
Eastern Illinois 3 vs Austin Peay 1
| Set Scores | | 1 | 2 | 3 | 4 | Team Records |
| --- | --- | --- | --- | --- | --- | --- |
| Austin Peay | (1) | 20 | 16 | 29 | 20 | 11-14, 5-4 OVC |
| Eastern Illinois | (3) | 25 | 25 | 27 | 25 | 10-12, 4-5 OVC |
Eastern Illinois (10-12, 4-5 OVC)
| ## | Player | SP | K | E | TA | PCT | A | E | SA | SE | RE | DIG | BS | BA | Points |
| --- | --- | --- | --- | --- | --- | --- | --- | --- | --- | --- | --- | --- | --- | --- | --- |
| 2 | LEE, Chelsea | 4 | 15 | 6 | 33 | .273 | 0 | 0 | 0 | 0 | 2 | 4 | 0 | 1 | 15.5 |
| 8 | SPRINGER, Dakota | 4 | 0 | 0 | 0 | .000 | 2 | 0 | 2 | 0 | 0 | 9 | 0 | 1 | 2.5 |
| 9 | HUESTON, Allie | 4 | 7 | 2 | 20 | .250 | 0 | 0 | 2 | 2 | 0 | 2 | 0 | 2 | 10.0 |
| 10 | BRADBURY, Marah | 4 | 7 | 0 | 13 | .538 | 40 | 0 | 0 | 3 | 0 | 10 | 1 | 3 | 9.5 |
| 11 | ROGGEMANN, Kelsey | 4 | 6 | 1 | 16 | .313 | 0 | 0 | 0 | 0 | 0 | 0 | 0 | 6 | 9.0 |
| 13 | BROWN, Maria | 4 | 5 | 7 | 26 | -.077 | 1 | 0 | 1 | 0 | 1 | 8 | 0 | 2 | 7.0 |
| 4 | SAALFRANK, Abby | 4 | 11 | 4 | 27 | .259 | 0 | 0 | 0 | 0 | 0 | 4 | 1 | 3 | 13.5 |
| 6 | WALLACE, Stephanie | 4 | 0 | 0 | 0 | .000 | 2 | 0 | 2 | 1 | 2 | 16 | 0 | 0 | 2.0 |
| 12 | BROOKE, Kelsey | 4 | 0 | 0 | 0 | .000 | 3 | 0 | 0 | 0 | 0 | 8 | 0 | 0 | 0.0 |
| | Totals | 36 | 51 | 20 | 135 | .230 | 48 | 0 | 7 | 6 | 5 | 61 | 2 | 18 | 69.0 |
Team Attack By Set
Set
K
E
TA
Pct
1
8
2
30
.200
2
12
5
29
.241
3
17
7
45
.222
4
14
6
31
.258
Total Team Blocks: 11.0
LEADERS:
Kills-Aces-Blocks:LEE, Chelsea (15-0-1); SAALFRANK, Abby (11-0-4); HUESTON, Allie (7-2-2); BRADBURY, Marah (7-0-4); ROGGEMANN, Kelsey (6-0-6); BROWN, Maria (5-1-2)Assists:BRADBURY, Marah (40); BROOKE, Kelsey (3); SPRINGER, Dakota (2); WALLACE, Stephanie (2); BROWN, Maria (1)

Digs: WALLACE, Stephanie (16); BRADBURY, Marah (10); SPRINGER, Dakota (9); BROWN, Maria (8); BROOKE, Kelsey (8); LEE, Chelsea (4); SAALFRANK, Abby (4); HUESTON, Allie (2)
Austin Peay (11-14, 5-4 OVC)
| ## | Player | SP | K | E | TA | PCT | A | E | SA | SE | RE | DIG | BS | BA | Points |
| --- | --- | --- | --- | --- | --- | --- | --- | --- | --- | --- | --- | --- | --- | --- | --- |
| 4 | EBRIGHT, Sammie | 4 | 12 | 4 | 30 | .267 | 0 | 0 | 2 | 0 | 0 | 11 | 0 | 2 | 15.0 |
| 6 | SLAY, Ashley | 4 | 8 | 8 | 27 | .000 | 2 | 0 | 0 | 0 | 0 | 2 | 0 | 3 | 9.5 |
| 7 | MARSELLIS, Aubrey | 4 | 3 | 2 | 10 | .100 | 40 | 0 | 0 | 1 | 0 | 17 | 2 | 1 | 5.5 |
| 8 | LANDON, Liz | 2 | 2 | 2 | 14 | .000 | 2 | 0 | 0 | 0 | 0 | 0 | 0 | 0 | 2.0 |
| 10 | STROTHER, Samantha | 2 | 0 | 5 | 10 | -.500 | 0 | 0 | 0 | 0 | 2 | 1 | 1 | 0 | 1.0 |
| 14 | STOTTS, Jada | 3 | 8 | 7 | 26 | .038 | 0 | 0 | 0 | 0 | 3 | 4 | 0 | 0 | 8.0 |
| 3 | ADAMS, April | 2 | 0 | 0 | 0 | .000 | 0 | 0 | 3 | 1 | 0 | 6 | 0 | 0 | 3.0 |
| 5 | BALES, Lizzy | 4 | 0 | 0 | 0 | .000 | 1 | 0 | 0 | 1 | 0 | 10 | 0 | 0 | 0.0 |
| 9 | WALKER, Peyton | 2 | 5 | 3 | 13 | .154 | 1 | 0 | 0 | 0 | 0 | 0 | 0 | 1 | 5.5 |
| 11 | WHITE, Christina | 4 | 5 | 4 | 16 | .063 | 0 | 0 | 0 | 0 | 2 | 2 | 0 | 0 | 5.0 |
| 13 | LITCHFIELD, Syd | 3 | 0 | 0 | 0 | .000 | 1 | 0 | 0 | 2 | 0 | 2 | 0 | 0 | 0.0 |
| 15 | PLYBON, Hillary | 3 | 9 | 0 | 15 | .600 | 0 | 0 | 0 | 0 | 0 | 1 | 1 | 1 | 10.5 |
| | Totals | 37 | 52 | 35 | 161 | .106 | 47 | 0 | 5 | 5 | 7 | 56 | 4 | 8 | 65.0 |
Team Attack By Set
Set
K
E
TA
Pct
1
16
11
48
.104
2
9
10
34
-.029
3
16
8
51
.157
4
11
6
28
.179
Total Team Blocks: 8.0
LEADERS:
Kills-Aces-Blocks:EBRIGHT, Sammie (12-2-2); PLYBON, Hillary (9-0-2); SLAY, Ashley (8-0-3); STOTTS, Jada (8-0-0); WALKER, Peyton (5-0-1); WHITE, Christina (5-0-0); MARSELLIS, Aubrey (3-0-3); LANDON, Liz (2-0-0)Assists:MARSELLIS, Aubrey (40); SLAY, Ashley (2); LANDON, Liz (2); BALES, Lizzy (1); WALKER, Peyton (1); LITCHFIELD, Syd (1)

Digs: MARSELLIS, Aubrey (17); EBRIGHT, Sammie (11); BALES, Lizzy (10); ADAMS, April (6); STOTTS, Jada (4); SLAY, Ashley (2); WHITE, Christina (2); LITCHFIELD, Syd (2); STROTHER, Samantha (1); PLYBON, Hillary (1)