Johnson Receives "Champion of Commerce" Award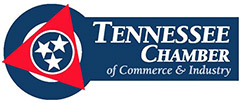 Nashville, TN – The Tennessee Chamber of Commerce & Industry and the Clarksville Area Chamber awarded the coveted "Champion of Commerce" award to Tennessee State Representative Curtis Johnson (R-Clarksville).
The statewide board of directors for the Tennessee Chamber approves the award for legislators who have demonstrated exemplary efforts in protecting and promoting business and free enterprise at the conclusion of each Tennessee General Assembly.
The select award is given to just over five percent of the total 132 members of the General Assembly.
"We are proud to recognize Representative Curtis Johnson. This is a great opportunity to showcase these legislators who went above and beyond on a number of pro-business policies at the State Capitol," said Bradley Jackson, vice president of the Tennessee Chamber government affairs program.

"I am truly honored to receive this award and I appreciate the work done by the Tennessee Chamber of Commerce," said Representative Johnson. "When Tennessee businesses are succeeding, our entire community reaps the benefits. By partnering with organizations like the Chamber, we can continue our efforts of creating an environment in our state where businesses can grow and thrive."
The "Champion of Commerce" award is presented locally in coordination with the Tennessee Chamber and local chambers of commerce. The prestigious award recognizes individuals that exemplify outstanding achievement promoting business and free enterprise during the 2013 – 2014 108th General Assembly.