Austin Peay Sports Information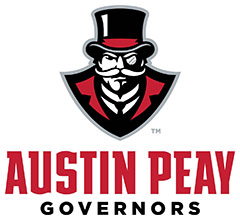 Irving, TX – John Ogles and Harold "Red" Roberts, the only two Austin Peay State University football players to have their respective jerseys retired, are on the 2015 Divisional Player ballot for the College Football Hall of Fame.
That has been announced by The National Football Foundation (NFF) & College Hall of Fame. In total, 87 players and 25 coaches are on the ballot from the divisional ranks while 75 players and six coaches are on the Football Bowl Subdivision ballot.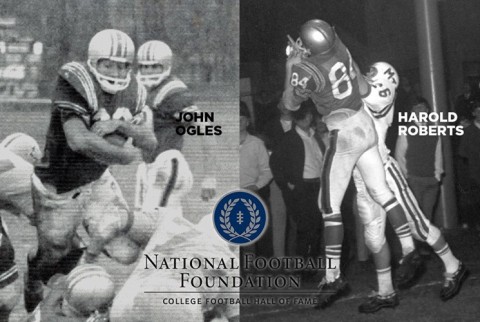 The announcement of the 2015 class, including the players and coaches from both the Football Bowl Division and the divisional ranks, will be made Friday, January 9th, in conjunction with the January 12th College Football Playoff (CFP) National Championship Game.
The January 9th announcement will be carried live on www.footballfoundation.org.
Ogles played a huge role, along with his teammates, as Austin Peay moved into the OVC in 1963. He was named first-team All-American in 1966 after rushing for 1054 yards and scoring 78 points. He was a two-time All-Ohio Valley Conference first-team selection. He left APSU as its all-time leading rusher with 2,932, a record that stood for nearly 40 years, while carrying the ball 636 times.
He also left APSU owning the record for single-game carries (36) that took 25 seasons to break.
He was elected to the APSU Athletics Hall of Fame in 1979 and the Ohio Valley Conference Hall of Fame in 1996. His #30 jersey officially was retired in 1991.
Roberts, meanwhile, was one of the most prolific pass receivers in NCAA football history. He once caught 20 passes in a single game (Murray State, November 8th, 1969). That record stood for six years at all NCAA levels and 20 years as a Division II mark.
For his career, Roberts totaled 232 catches for 2,999 yards and 31 touchdowns from 1967-70—all that during an era, while just discovering the passing game, still was more known for the run than the pass.
His single-game 20-catches mark stood for 45 years in the OVC while his career 232 receptions lasted until 2013.
Roberts was an All-OVC choice four times—the first APSU football player to gain such distinction and still only one of two—and was chosen first-team Associated Press Little All-American in 1970 after earning honorable mention twice previously.
He was inducted into the APSU Athletics Hall of Fame in 1979 and his jersey #84 officially was retired in 1991.