Montgomery County, TN – Sgt. Steve Heise recently was the first investigator with the Montgomery County Sheriff's Office to graduate the six-week Tennessee Bureau of Investigations State Academy.
"The training was outstanding and second to none," Heise said."
Graduates learned about crime scene and death investigations, undercover operations, constitutional law, leadership, fingerprinting, child sex abuse, prescription & financial fraud and methamphetamines.
Much of the training Heise received was hands on. He was able to help process a mock crime scene of an actual case, investigate it and prepare it for mock court. He also was able to visit the William Bass Body Farm in Knoxville, Tennessee where he unearthed, documented and recovered human skeletons.
"I was able to network with 11 other investigators and detectives from across the state that also attended the academy," Heise said. "I gained new leadership techniques and heard from prominent speakers from across the United States that specialize in these fields."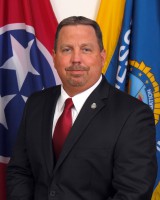 Heise said the things he learned will not only benefit him, as an investigator, but the entire agency.
"The amount of education, skills and networking I've acquired over the last six weeks will not only benefit me in continuing my career, but will allow me to share this new found knowledge with the investigators in my unit, which will ultimately benefit the citizens of Montgomery County," Heise said.
Sheriff John Fuson added: "Investigators from across the state had to compete just to be accepted into this State Academy. We are not only proud that Sgt. Heise was selected, we are excited about the knowledge that he brings back to the Sheriff's Office and the citizens that we serve".