Austin Peay Sports Information

Clarksville, TN – After a relatively short turnaround, Austin Peay State University men's basketball team will play its final exhibition game when it plays host to Bryan College, 7:00pm, Wednesday, in Dave Aaron Arena.
This will serve as APSU's final tune-up before it opens regular-season play 4:00pm, Saturday, November 15th, at Western Kentucky.  The Governors handed Webster an 82-48 defeat Saturday in the exhibition opener.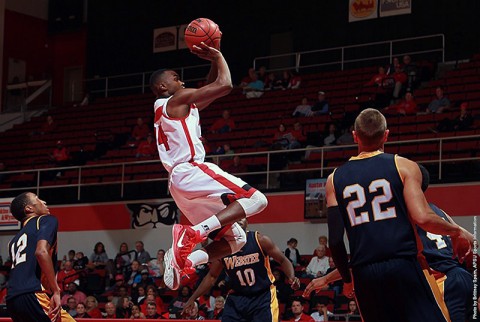 "Webster was missing some key players but the positive was they played a lot of a zone so we were able to play against the zone, which is a plus—get as many different types of things in the exhibition games as you can. We were able to play all our healthy players some significant minutes. We will be looking to do that again. I hope we see some different things as far as the opponent."
Bryan College comes in 3-0 and certainly will not be missing their key player, 6-2 forward Brandon Cole. All Cole has done in three games is average 45 points per game, including a 51-point effort Monday night against Johnson University.
"He has got a big-time motor—he is always moving," Loos said. "It will be interesting to see how we match up. He has really put up some points in the early going."
Loos hopes to see his team's continued development on the defensive end. Although allowed less than 50 points, the veteran coach knows the Govs must improve its efforts to halt dribble penetration.
"I thought our defense one pass away was pretty good," Loos said. "However, our on-ball defense was not good and our help defense was lacking as well.
"Even though we outrebounded them significantly (41-25), it was because we were bigger than them. Technically I would like us to do a better job boxing out."
Offensively, Loos was pleased with the team's ball movement against Webster as APSU placed four guys in double digits scoring-wise but knows the Govs must improve dramatically at the free-thrown line, where APSU went just 13-of-25 against Webster.
"We just have to do better at the line," Loos said. "We lost nine games last season by six points or less. Free-throw shooting was an issue.
'Part of our problem is we have guys fighting us from a technique standpoint. They are so accustomed to doing what they are doing. People I am sure wonder if we practice shooting free throws. Of course we do. But we are practicing bad habits. We have two or three guys who have poor technique—of course, guys who get to the line a lot—and until they are willing to draw a line in the same and say 'I have to change my technique, I may take a step back before I take one forward' because it is all muscle memory, then we are practicing bad habits."