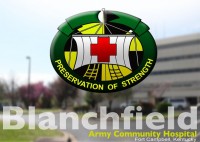 Fort Campbell, KY – In honor of the national observance of Veterans Day, Blanchfield Army Community Hospital (BACH) personnel will observe the federal holiday Tuesday, November 11th. Therefore, all Soldier and Patient-Centered Medical Homes and pharmacies will be closed.
The hospital remains open every day, 24 hours, seven days a week, for emergency services, inpatient care, and labor and delivery services.
BACH Soldier and Patient-Centered Medical Homes, as well as specialty services, will remain open Monday, November 10th, with BACH pharmacies operating on a Day of No Scheduled Activities (DONSA) schedule.
Both LaPointe and Byrd Pharmacies will be closed Monday, November 10th The Main Pharmacy within the hospital will be open 8:00am to 4:00pm, and the Town Center and Screaming Eagle Medical Home Pharmacies will be open 8:00am to 5:00pm Monday, November 10th.
The Town Center Pharmacy will also open normal Saturday business hours from 8:00am to 4:00pm November 8th.
"Veterans Day is a perfect opportunity to thank our Veterans who have transitioned to civilian life and continue to offer strength within our local communities through the experiences they obtained while serving our great nation," said Blanchfield Army Community Hospital Commander Col. George N. Appenzeller. "As we celebrate Veteran's Day, we thank our surrounding community members for the respect and care they show our Soldiers, Veterans and their Families every day."
BACH medical services will reopen normal hours Wednesday, November 12th.