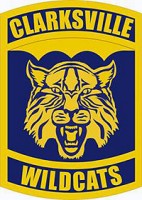 Clarksville, TN – Clarksville High School girls basketball team is still looking of its first win of the season after dropping a 53-43 decision, November 18th at William Workman Gymnasium, to Hendersonville High School.
After getting out to an 8-3 lead in the game's first two-and-a-half minutes, behind a pair of threes from Hannah Goins and Haley Bearden, Clarksville High (0-4) would see Hendersonville go on an 11-0 run to take a 11-8 lead, with 2:26 left in the period.
The two teams would trade baskets over the next minute, but the Lady Commandos (1-0) closed out the first quarter by hitting five-of-six free throws over the final 1:11 to take an 21-12 advantage after the first eight minutes of play.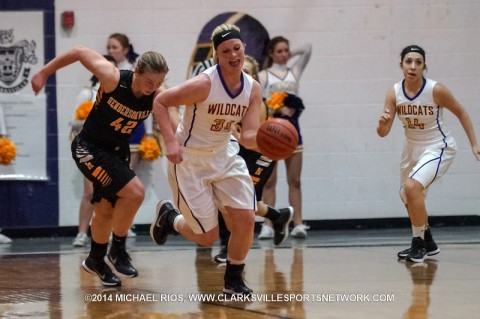 Clarksville High continued to struggle in finding its range from the floor in the second quarter, as the Lady Wildcats only had one field goal over the first 6:25 of the quarter – and 8:03 going back to their final field goal in the first quarter.
Over that period Hendersonville to as many as 15 points, 32-17, before taking a 10-point advantage into the locker room at intermission, 32-22.
But despite the cold shooting in the first half, the Lady Wildcats wouldn't go down without a fight by putting together their best stretch of basketball of the night in the third quarter.
Hendersonville would get a basket from Brooke Long to open the second half, and extend the Lady Commandos lead to 12 points, but that would be one of only three field goals they would record in the period.
The Lady Wildcats on the other hand finally got its offense untracked, as they scored 12 of the next 16 points – powered by six points from Bearden – to cut the Lady Commandos to just four points, 38-34, with 2:08 left in the third quarter.
Bearden would be the only Lady Wildcat to break double figures, finishing the contest with 14 points.
Clarksville High would get as close as two points, 41-39, following a bucket by Ta'Tayana Outlaw to open the fourth quarter, but that would be as close as the Lady Wildcats would get the rest of the way.
Hendersonville would score seven straight points to extend its lead back out to nine points, 48-39 with 3:18 left in the game.
Outlaw would end the run with a field goal for CHS, but the Lady Commandos would knock down five of six free throws over the next 1:50 to push its lead back out to double figures, 53-41, before Clarksville High got a final bucket from Nyasia Saines for the 53-43 final.
Clarksville High returns to action, November 21st, with a 6:00pm road contest at Station Camp High School.
Box Score
Hendersonville 53, Clarksville High 43
| | | | | | |
| --- | --- | --- | --- | --- | --- |
| | 1 | 2 | 3 | 4 | Final |
| Hendersonville Lady Commandos | 21 | 11 | 9 | 12 | 53 |
| Clarksville High Lady Wildcats | 12 | 10 | 15 | 0 | 43 |
Hendersonville: Carleigh Short 13, Brooke Long 2, Joslyn Jarrett 10, Makenzie Branch 2, Peyton Sheehan 16, Elizabeth Burns 10.Team totals 15 18-24 53.
Clarksville High: JK Cummings 2, Nyasia Saines 8, Katie Gallowitz 4, LaPrasha Fair 4, Hannah Goins 3, Ta'Tayana Outlaw 6, Chrislen Brown 2, Haley Bearden 14. Team totals 15 10-21 43.
3-point field goals: Hendersonville 5 (Jarrett 2, Sheehan 3), Clarksville High 3 (Bearden 2, Goins 1).
Records: Hendersonville 1-0, Clarksville High 0-4.
Photo Gallery