Austin Peay Sports Information

Clarksville, TN – Brett Wishon connected on six second-half three pointers, including two that broke open a close game late, as Lipscomb held off Austin Peay State University, 68-59, Saturday in non-conference basketball action in Dave Aaron Arena.
The victory improved Lipscomb to 4-5 overall while APSU lost its third straight in falling to 2-7.
Wishon finished with 21 points, going 7-of-12 from three-point range, including 6-of-9 in the second half.
A 6-9 freshman, Wishon's previous high was 14 points against Tennessee Tech. But this night belonged to the North Carolina native, who missed much of the first half after taking a teammate's elbow to the nose—blood on his uniform forced him to switch from No. 32 to 24 in the second half.
After Lipscomb took a 30-26 halftime lead, Wishon opened the second half with a three pointer as the Bisons went on an 8-0 run to open the half, building a double-digit lead. The lead grew to 13 points, 43-30, with 15:41 left and remained double digits through the first three media timeouts of the half.
With Lipscomb leading 51-41, Ed Dyson knocked home a three pointer followed by a Chris Freeman layup. Assane Diop made one of two free throws to slice the lead to 51-47 with 6:19 left before Khalil Davis' put-back bucket—his only field goal of the game—cut the deficit to two, 51-49, with 5:50 left.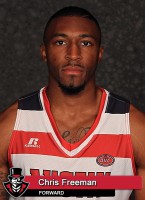 Lipscomb's Josh Williams ended APSU's 8-0 run with a pair of free throws before Diop dunked a bounce pass from Chris Freeman to again made it a two-point game, 53-51.
Then with 5:08 remaining, Dyson was fouled rebounding a missed Lipscomb shot. He sank both free throws and the Govs finally tied it—the first time they had not trailed since holding 25-24 lead with 2:41 remaining in the opening half.
But Wishon blunted the Govs momentum just 17 seconds later, knocking down a three pointer as Lipscomb regained the lead.
Chad Lange hit two straight free throws to push it to five and then Wishon connected on another three to give the Bisons a 61-53 lead with 3:43 left. The Govs would get no closer than five points the game's remainder.
Dyson matched Wishon with 21 points, going 4-of-8 from three-point territory, for the Govs. Assane Diop came off the bench to finish with 10 as APSU's only other double-figure scorer.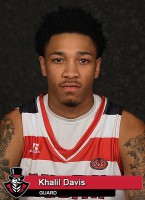 Struggling again offensively, APSU connected for a season-low 33 percent (16 of 48), which was compounded by a 22-of-36 (61.1 percent) free-throw effort while Lipscomb, which was shooting just 61 percent at the line coming into the game, made 24 of 30 (80 percent).
Defensively, APSU held Lipscomb to 39.1 percent (18 of 46) from the floor, including 8-of-27 from three-point range (Wishon made seven of them). APSU also out-rebounded the Bisons, 37-35, with Khalil Davis leading the way with 10.
Box Score
Austin Peay 59 (2-7) vs Lipscomb 68 (4-5)
| | 1 | 2 | Total | Records |
| --- | --- | --- | --- | --- |
| Lipscomb | 30 | 38 | 68 | 4-5 |
| Austin Peay | 26 | 33 | 59 | 2-7 |
Lipscomb 68
##
Player
FGM-FGA
3FGM-3FGA
FTM-FTA
OFF-DEF
TOT
PF
TP
A
TO
BLK
STL
MIN
52
Smith,Malcolm
3-5
0-0
5-6
1-5
6
3
11
1
3
0
3
26
2
Josh Williams
3-8
0-3
4-4
4-3
7
5
10
2
1
0
3
26
4
Moran,Nathan
2-8
1-6
4-4
0-4
4
4
9
3
6
0
0
32
10
Denny,Talbott
1-2
0-1
5-7
1-4
5
4
7
0
3
1
0
28
14
Lang,Chad
0-2
0-0
3-4
1-2
3
5
3
0
0
1
0
9
32
Wishon,Brett
7-12
7-12
0-0
0-1
1
2
21
1
2
0
0
32
35
Smith,Martin
2-5
0-2
3-3
0-2
2
0
7
2
1
0
2
15
11
Duvall,Asa
0-1
0-1
0-0
0-0
0
0
0
2
0
0
0
9
15
Greene,Dylan
0-0
0-0
0-0
0-0
0
1
0
0
0
0
0
3
20
Johnson,Chad
0-0
0-0
0-0
0-1
1
1
0
1
0
0
1
6
23
Korn,Aaron
0-3
0-2
0-2
0-2
2
3
0
0
0
0
0
12
55
Brammeier,George
0-0
0-0
0-0
0-0
0
1
0
0
0
0
0
2
0
TEAM
0-0
0-0
0-0
1-3
4
0
0
0
0
0
0
0
Totals
18-46
8-27
24-30
8-27
35
29
68
12
16
2
9
200
Percentages
39.1%
29.6%
80.0%
Austin Peay 59
##
Player
FGM-FGA
FGM3-FGA3
FTM-FTA
OFF-DEF
TOT
PF
TP
A
TO
BLK
STL
MIN
24
Dyson, Ed
6-11
4-8
5-11
1-5
6
3
21
2
1
0
0
32
11
Davis, Khalil
1-7
0-1
5-6
6-4
10
4
7
2
3
0
2
32
05
Horton, Chris
3-12
0-0
0-0
2-7
9
2
6
2
4
1
2
34
15
Freeman, Chris
3-4
0-0
0-0
1-3
4
4
6
2
3
0
1
17
12
Purvis, Jeremy
0-1
0-0
0-0
1-0
1
2
0
2
0
0
1
31
01
Diop, Assane
2-10
1-5
5-8
1-2
3
3
10
0
1
1
0
22
04
Robinson, Josh
0-1
0-0
4-6
0-0
0
1
4
0
2
0
0
12
23
Mboup, Serigne
1-1
0-0
2-2
0-0
0
2
4
0
1
0
1
7
10
Ivory, Tre
0-1
0-1
1-3
0-2
2
1
1
0
0
0
0
10
20
Budrys, Domas
0-0
0-0
0-0
0-0
0
0
0
0
0
0
0
3
TM
TEAM
0-0
0-0
0-0
1-1
2
0
0
0
1
0
0
0
Totals
16-48
5-15
22-36
13-24
37
22
59
10
16
2
7
200
Percentages
33.3%
33.3%
61.1%