Austin Peay Sports Information

Edwardsville, IL – Austin Peay State University's bench production has been an issue all season long but Thursday night it sunk to a new low.
Governors reserves managed just one point compared to 19 for SIU Edwardsville as the Cougars pulled away late for a 69-65 decision in Ohio Valley Conference action at the Vadalabene Center.
The loss dropped APSU to 6-13 overall but more importantly to 1-4 in the OVC. The Govs remain winless on the road for 2014-15, dropping to 0-10 in true road encounters.
SIUE, meanwhile, improved to 4-3 in the OVC and 8-10 overall. SIUE is now 8-2 at home this season.
The Governors got off to an impressive 20-12 start in the contest. The Govs first gave center Chris Horton a breather and then Khalil Davis picked up his second foul, forcing coach Dave Loos forced to go to his bench a second time with 10:22 left in the half.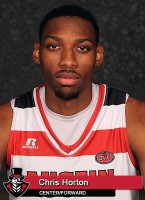 As a result, things began to unravel. In a manner of minutes the Cougars went on a 14-3 run to take a 28-23 lead with 7:11 left in the half. The Govs were forced to play catchup the rest of the half, clawing back to trail just 40-37 at halftime.
APSU reserves went a combined 0-of-7 in 18 combined first-half minutes and failed to grab a rebound—reserve guard Zavion Williams scored the only point and dished out two assists.
"Our bench (struggle) has been an issue all year," said APSU coach Dave Loos, who hoped shortening the bench from a number standpoint might improve production. "They would tell you they need to play more (for increased production) while my feeling always has been you have to produce when you get your opportunities."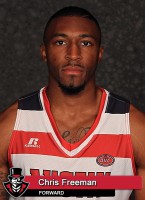 The shortened bench became shorter in the second half as APSU utilized just Chris Freeman, who failed to score and grabbed one rebound in 11 overall minutes.
But despite the bench issues, the Governors still were in position to gain that first road win. Leading 53-52 with 9:08 remaining, APSU scored just six points in its next 10 possessions as the Cougars double-teamed passes to the wings. The Govs went just 2-of-4 at the free-throw line during a 7 ½-minute stretch and committed five of their season-low nine turnovers as SIUE built a 66-59 advantage with 1:14 left. In fact, APSU was just 1 of its last 9 from the floor.
"The ball was sticking," Loos said. "We held onto the basketball in those (double-team) situations and didn't do a good job moving the basketball, in particular, we didn't do a good job of getting the ball inside.
"We had too many empty possessions. We were too intent of (dribble) driving off the ball screens. Chris (Horton) also has to do a better of getting down in there (lane); he has to get a foot in the lane."
Horton recorded his second straight double-double—and 10th this season—with 15 points, taking only eight shots, and 16 rebounds. Freshman guard Josh Robinson led all Govs scorers with 17 points while Ed Dyson added 15 points and DeeDee Smith 10.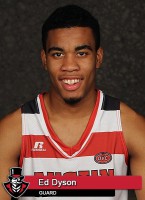 After a hot start, making 7-of-12 in the first eight minutes, APSU finished the night just 23 of 58 (39.7 percent), connecting on only 9-of-25 in the second half—the Govs now have shot less than 40 percent from the floor in 11 of 19 games this season. The Govs also struggled at the free-throw line, making just 14 of 24 (58 percent).
"Our margin for error is so thin," Loos said. "We didn't shoot very well at the free-throw line. We had some bad turnovers at the most inopportune times there late and we had some very inefficient possessions where we came up empty, we didn't get good shots."
Kris Davis led all scorers with 18 points for SIUE while 6-10 Keaton Jackson scored 11 of his 13 points in the first half to help bring back the Cougars from a slow start. Jake Newton accounted for 10 of SIUE's 19 bench points. SIUE.
Box Score
SIUE 69 (8-10, 4-3 OVC) vs Austin Peay 65 (6-13, 1-4 OVC)
| | 1 | 2 | Total | Records |
| --- | --- | --- | --- | --- |
| Austin Peay | 37 | 28 | 65 | 6-13, 1-4 OVC |
| SIUE | 40 | 29 | 69 | 8-10, 4-3 OVC |
Austin Peay 65
##
Player
FGM-FGA
3FGM-3FGA
FTM-FTA
OFF-DEF
TOT
PF
TP
A
TO
BLK
STL
MIN
4
Robinson, Josh
6-16
3-9
2-2
3-2
5
1
17
0
1
1
2
36
24
Dyson, Ed
5-9
2-5
3-6
2-1
3
3
15
1
1
0
1
38
5
Horton, Chris
5-8
0-0
5-6
5-11
16
1
15
2
1
3
1
32
22
Smith, Damarius
5-11
0-2
0-3
1-2
3
4
10
2
4
0
0
37
11
Davis, Khalil
2-7
0-2
3-4
1-1
2
4
7
4
2
0
0
32
2
Williams, Zavion
0-2
0-1
1-3
0-0
0
0
1
2
0
0
2
9
15
Freeman, Chris
0-1
0-0
0-0
0-1
1
3
0
0
0
0
0
11
1
Diop, Assane
0-4
0-2
0-0
0-0
0
1
0
0
0
0
0
5
0
TEAM
0-0
0-0
0-0
2-0
2
0
0
0
0
0
0
0
Totals
23-58
5-21
14-24
14-18
32
17
65
11
9
4
6
200
Percentages
39.7%
23.8%
58.3%
SIUE 69
##
Player
FGM-FGA
FGM3-FGA3
FTM-FTA
OFF-DEF
TOT
PF
TP
A
TO
BLK
STL
MIN
1
Davis, Kris
6-12
3-8
3-5
0-4
4
2
18
1
1
0
0
25
3
Jackson, Keaton
6-11
0-0
1-1
4-3
7
4
13
0
2
4
0
27
30
Messer, Michael
3-7
1-1
0-0
1-0
1
0
7
0
2
0
0
21
32
Stewart, Donivine
2-4
0-2
2-3
0-5
5
1
6
2
2
0
3
31
23
Nunn, Rozell
1-6
0-2
4-4
2-5
7
2
6
2
1
0
0
27
13
Newton, Jake
3-5
1-3
3-4
2-3
5
2
10
0
1
0
0
15
24
Henry, Jalen
1-1
0-0
2-2
1-3
4
2
4
0
1
0
0
8
4
Carr, C.J.
1-2
1-1
0-0
0-3
3
0
3
4
2
0
0
19
5
Fiorentinos, Grant
1-1
0-0
0-2
1-0
1
0
2
0
0
0
0
4
2
Wiltz, Maurice
0-3
0-3
0-0
0-0
0
2
0
4
2
0
1
23
TM
TEAM
0-0
0-0
0-0
1-0
1
0
0
0
0
0
0
0
Totals
24-52
6-20
15-21
12-26
38
15
69
13
14
4
4
200
Percentages
46.2%
30.0%
71.4%