APSU Sports Information

Clarksville, TN – Morehead State shot 60.7 percent from the floor in the second half while overcoming 27 Austin Peay State University final-half free throws to pull away for a 82-69 victory, Wednesday night, in Ohio Valley Conference action in Dave Aaron Arena.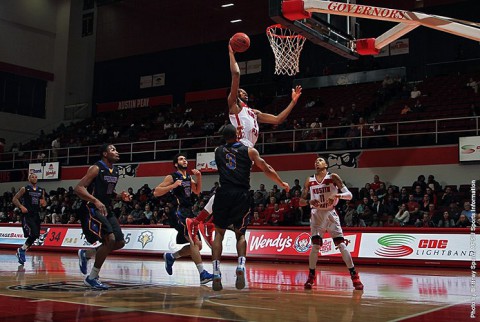 The victory was Morehead State's third straight—all on the road—and improved them 10-13 overall and 5-3 in the OVC East. The Govs slipped to 7-14 overall and 2-5 in the OVC.
With the game tied 33-33 at halftime, the Eagles guards, in particular point guard Kareem Story, took over the game.
Using the dribble drive, Story blew by APSU guards for 11 second-half points (he finished with 13 points)—all layups—while dishing out seven assists (12 overall).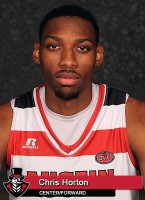 If it wasn't him, it was the 6-6 UNLV transfer Karam Mashour, who drove and spun his way to 18 of his game-high 24 points in the final half.  Morehead State converted 17 of 28 from the floor in the second half—13 were layups along with a trio of three pointers. The Eagles were credited with 56 points in the paint compared to only 14 for the Governors.
Meanwhile, the Govs, after making 12 of 24 from the floor in the first half, were a horrific 4-of-21 (21 percent) in the final 20 minutes. Chris Horton was 2-of-4 from the floor while the rest of his mates were just 2-0f-17 (12 percent). Despite the shooting woes, the Governors still had a chance.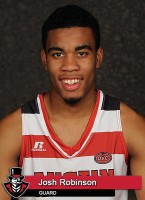 The game was tied six different times in the second half, the last time at 54 all and the Govs remained within striking distance because Morehead State committed 22 second-half fouls, putting APSU at the free-throw line 39 times. On a night when the Governors needed one of their best free-throw shooting performances, they fell short, converting 27 (69 percent). APSU finished the night 32 of 44 (72.7 percent) at the line.
Horton was the Govs' only bright spot, scored 23 points and grabbing 11 rebounds—it was his fourth straight double-double. The Eagles attacked Horton literally every time he had ball, sending him to the line 20 times, with the 6-8 center converting 15. He also had three blocked shots.
Freshman Josh Robinson, the OVC Freshman of the Week, was APSU's only other double-figure scorer with 14 points, but he converted just 1-of-9 shots in the final half. Horton and Robinson combined for eight field goals—the rest of the Govs had only eight field goals for the night.
In addition to Mashour and Story, Brent Arrington had 16 points, 12 in the first half, and 10 rebounds while Angelo Warner came off the bench to score 10.
Video – Coach Dave Loos
Box Score
Austin Peay 69 (7-14 2-5 OVC) vs Morehead State 82 (10-13 5-3 OVC)
| | 1 | 2 | Total | Records |
| --- | --- | --- | --- | --- |
| Morehead State | 33 | 49 | 82 | 10-13 (5-3 OVC) |
| Austin Peay | 33 | 36 | 69 | 7-14 (2-5 OVC) |
Morehead State 82
##
Player
FGM-FGA
3FGM-3FGA
FTM-FTA
OFF-DEF
TOT
PF
TP
A
TO
BLK
STL
MIN
25
Mashour, Karam
10-15
0-2
4-4
1-6
7
2
24
0
0
1
0
35
32
Arrington, Brent
7-13
0-3
2-4
0-10
10
3
16
1
1
3
3
39
15
Storey, Kareem
5-7
0-2
3-4
1-1
2
0
13
12
2
0
0
34
3
Collins, Corban
2-5
1-3
2-3
1-5
6
4
7
1
3
0
0
27
10
Elechi, Anthony
1-3
0-0
0-0
3-0
3
5
2
0
2
1
1
11
22
Warner, Angelo
4-9
1-2
1-1
0-4
4
5
10
2
2
0
2
32
5
Dicent, Miguel
2-2
2-2
0-1
0-0
0
4
6
0
1
0
0
11
21
Courtney, Jalen
1-3
0-0
0-0
1-0
1
3
2
0
0
0
0
6
11
Fuggins, Marcus
0-1
0-0
2-2
0-0
0
4
2
0
0
0
0
5
0
TEAM
0-0
0-0
0-0
1-2
3
0
0
0
0
0
0
0
Totals
32-58
4-14
14-19
8-28
36
30
82
16
11
5
6
200
Percentages
55.2%
28.6%
73.7%
Austin Peay 69
##
Player
FGM-FGA
FGM3-FGA3
FTM-FTA
OFF-DEF
TOT
PF
TP
A
TO
BLK
STL
MIN
5
Horton, Chris
4-7
0-0
15-20
3-8
11
3
23
0
2
3
0
35
4
Robinson, Josh
4-14
2-6
4-5
0-0
0
1
14
0
3
0
1
35
24
Dyson, Ed
2-9
1-4
4-4
1-6
7
2
9
2
0
1
1
40
11
Davis, Khalil
3-7
0-1
2-6
1-3
4
2
8
5
1
0
0
40
22
Smith, Damarius
0-1
0-0
2-2
0-0
0
1
2
0
4
0
0
15
12
Purvis, Jeremy
2-2
2-2
2-2
0-0
0
3
8
2
1
0
1
19
15
Freeman, Chris
1-1
0-0
1-1
0-2
2
1
3
1
1
0
0
5
2
Williams, Zavion
0-4
0-1
2-4
1-2
3
4
2
0
0
0
2
11
TM
TEAM
0-0
0-0
0-0
2-1
3
0
0
0
0
0
0
0
Totals
16-45
5-14
32-44
8-22
30
17
69
10
12
4
5
200
Percentages
35.6%
35.7%
72.7%