Austin Peay Sports Information

Louisville, KY – Austin Peay State University men's tennis team dropped its second consecutive match as the Govs lost 4-0 to 43rd-ranked Louisville, Saturday, at the Bass-Rudd Tennis Center.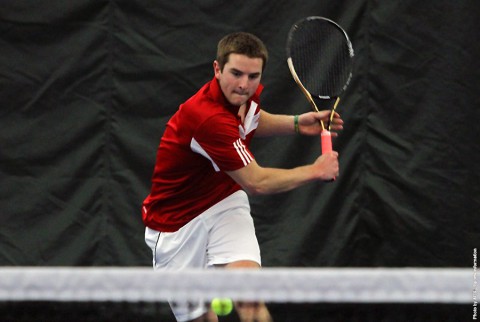 In doubles competition, the No. 2 pairing of sophomore
Aaron Jumonville
and senior
Aleksas Tverijonas
dropped a 6-3 decision, while the duo of freshman
Oleg Drobysh
and sophomore
Manuel Montenegro
fell 6-2 at the No. 3 position for Austin Peay (3-2)
In singles action, the Govs were led by senior Dimitar Ristovski, who dropped a 6-3, 6-1 decision to No. 3 ranked Sebastian Stiefelmeyer at the No. 1 position.  In other singles action, Montenegro dropped a 6-1, 6-2 match to Chris Simich at the No. 5 position while Drobysh suffered a 6-2, 6-1 loss to Jeffrey Brown at the No. 6 slot.
The Govs return to action with a 5:00pm, Friday, February 20th contest against Southern Indiana at the Austin Peay Indoor Tennis Center.
Singles
No. 1 – Sebastian Stiefelmeyer (LOU) def. Dimitar Ristovski (APSU) 6-3, 6-1
No. 2 – Albert Wagner (LOU) vs. Aleksas Tverijonas (APSU) 6-4, unf.
No. 3 – Alex Gornet (LOU) vs. Aaron Jumonville (APSU) 6-4, 4-1 unf.
No. 4 – Michael Lippens (LOU) vs. Iago Seffrin (APSU) 6-3, 3-1 unf.
No. 5 – Chris Simich (LOU) def. Manuel Montenegro (APSU) 6-1, 6-2
No. 6. – Jeffrey Brown (LOU) def. Oleg Drobysh (APSU) 6-2, 6-1
Doubles
No. 1 – Stiefelmeyer/Van Damrongsri (LOU) vs. Seffrin/Ristovski (APSU) 5-4 unf.
No. 2 – Gornet/Brown (LOU) def. Jumonville/Tverijonas (APSU) 6-3
No. 3 – Luis Elizondo/Pally Ray (LOU) def. Drobysh/Montenegro (APSU) 6-2