Austin Peay Sports Information

Kennesaw, GA – After dropping the doubles point, the Austin Peay State University men's tennis team was unable to rally as the Govs fell to Kennesaw State 4-3, Saturday at Kennworth Park.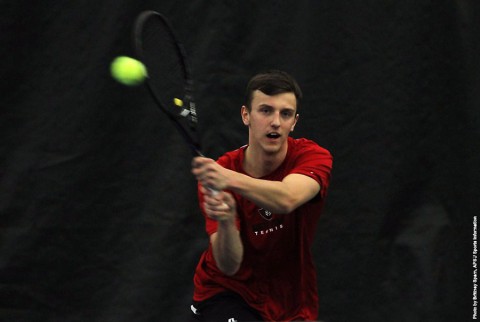 In doubles action, the No. 1 pairing of sophomore
Iago Seffrin
and senior
Dimitar Ristovski
dropped a hard fought 8-6 decision for Austin Peay (4-3) while the No. 2 duo of sophomore
Aaron Jumonville
and senior
Aleksas Tverijonas
and the No. 3 tandem of freshman
Oleg Drobysh
and sophomore
James Mitchell
each fell to their opponents, 8-4.
In singles action, the Governors were led by Tverijonas who earned a 7-6, 6-2 victory at the No. 2 slot while sophomore Manuel Montenegro claimed a 6-4, 6-3 victory at the No. 5 position. In other singles action, Ristovski battled back after dropping the second set to earn a 7-6, 1-6, 6-4 victory at the No. 1 position.
The Govs return to the court with a 1:00pm, Tuesday, road contest against College of Coastal Georgia in Brunswick, GA.
Box Score
Singles
No. 1 – Dimitar Ristovski (APSU) def. Simon Pritchard (KSU) 7-6, 1-6, 6-4
No. 2 – Aleksas Tverijonas (APSU) def. Alejandro Valencia (KSU) 7-6, 6-2
No. 3 –Jake Bouchillon (KSU) def. Aaron Jumonville (APSU) 6-2, 7-6
No. 4 – David Durham (KSU) def. Iago Seffrin (APSU) 6-1, 6-3
No. 5 – Manuel Montenegro (APSU) def. Drew Wendel (KSU) 6-4, 6-3
No. 6. – Jorge Wilton (KSU) def. Evan Borowski (APSU) 6-0, 6-0
Doubles
No. 1 – Durham/Wendel (KSU) def. Seffrin/Ristovski (APSU) 8-6
No. 2 – Pritchard/Wilton (KSU) def. Jumonville/Tverijonas (APSU) 8-4
No. 3 – Jake Bouchillon/Valencia (KSU) def. Oleg Drobysh/James Mitchell (APSU) 8-4