Montgomery County, TN – Sheriff John Fuson and the Montgomery County Sheriff's Office (MCSO) will be hosting a series of three informational meetings dubbed Community Information Exchanges, to address the concerns of the community and get feedback from citizens about activity in their particular area of the county.
The first meeting will be for citizens in the eastern part of Montgomery County (zones 2 & 3, see graphic) and will be held 10:00am, Saturday, March 21st at Living Hope Baptist Church, 255 Little Hope Church Road in Clarksville, TN.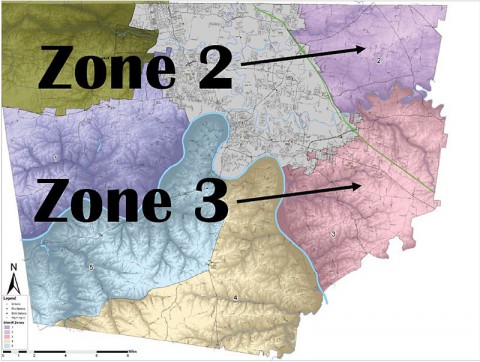 "These meetings are designed to give the citizens in all parts of the county, information about what is going on in their particular area," Sheriff John Fuson said. "We also want to hear about activity that they see happening on their streets and in their neighborhoods."
Citizens in attendance will have a chance to learn a bit about how the Sheriff's Office works, will have a chance to meet deputies and investigators who are assigned to their area and learn helpful tips, as well.
"We will have Investigator Larry Hodge on-hand to explain how to protect yourself from forgery and fraud," Fuson said. "Citizens will also learn how to interact with our social media and our Website, firsthand."
"I appreciate Pastor Derek Smith and the congregation of Living Hope Baptist Church for opening their doors and providing refreshments for us", Fuson said. "Living Hope has always been a great community partner and we seek to build the same type of relationship with churches and communities throughout Montgomery County", he added.
The next two meetings are tentatively scheduled for June 20th for southern Montgomery County and September 19th for the Woodlawn/Dotsonville or western Montgomery County.
The MCSO is still looking for hosts for these two meetings. Any group with a building that is large enough to do so is encouraged to contact Sgt. Steve Heise at 931.648.0611, ext. 13404.