Austin Peay Sports Information

Clarksville, TN – Austin Peay State University's baseball team outlasted Tennessee Tech for a 9-8 Ohio Valley Conference victory, Saturday afternoon at Raymond C. Hand Park.
Combined with Friday's win, the Govs clinched the three-game league set. The Govs and Golden Eagles finish their OVC series with a 1:00pm, Sunday contest.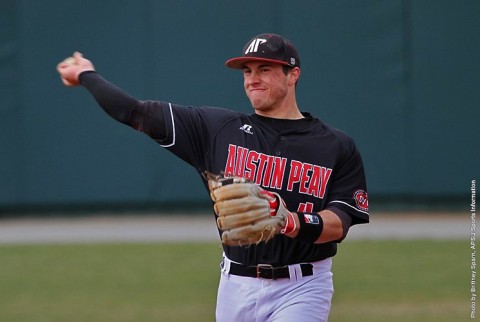 Austin Peay (13-10, 7-4 OVC) had to survive an early barrage of Tennessee Tech home runs.
The Golden Eagles had three home runs in the first four innings, including a two-run blast by catcher Jordan Hopkins and solo shots by both shortstop Dylan Bosheers and second baseman Trevor Putzig.
The Govs climbed out of an early 4-2 deficit with a three-run third inning. Third baseman Logan Gray led off the inning with a home run and first baseman Dre Gleason chipped in a two-run double to give Austin Peay its first lead, 5-4.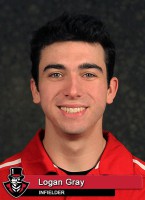 The Govs extended their lead in the fourth – after Putzig's home run halved the lead – when first baseman Josh Wilson hit a two-run double into the right field corner to give APSU a 7-5 advantage.
Both pitching staffs settled down in the middle portion of the contest. Austin Peay relievers A.J. Gaura and Levi Primasing combined to hold Tennessee Tech scoreless for four consecutive innings. The Govs would not score in either the fifth or sixth innings off reliever Kyle Keatts.
However, Austin Peay would break through for two runs off Keatts in the seventh inning. Wilson was hit by a pitch with one out and second baseman Garrett Copeland followed with a single to put runners on the corners.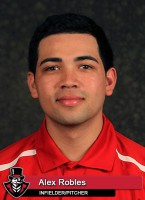 The Govs then executed a delayed double steal to add a run as pinch runner Chase Hamilton scored. Designated hitter Alex Robles then added his only hit of the day, a RBI double, to push the lead to 9-5.
Those two runs proved pivotal as Tennessee Tech (10-15, 4-7 OVC) rallied in the ninth inning. APSU reliever Hunter Lindley walked the only two batters he faced to start the inning. He was replaced by John Sparks who retired the first two batters he faced.
However, Tennessee Tech rallied with two out as Hopkins hit a two-run double to again halve the Austin Peay lead. The Golden Eagles tacked on another run when an infield error extended the inning. TTU had the tying run at second base when Sparks finally got the third out on a strikeout looking.
Gaura (1-0) picked up his season's first decision with 2.2 scoreless innings of relief, allowing two hits and striking out three of the 12 batters he faced.
Primasing followed and held Tennessee Tech scoreless for two innings, allowing one hit and striking out two.
Austin Peay starter Jared Carkuff opened the game with back-to-back strikeouts but could not get past the second inning, allowing three runs in one-plus inning.
Copeland led the Govs offense with a 3-for-4 outing with a RBI and two runs scored. Right fielder Josh Wilson recorded two RBI for a second consecutive day and was 2-for-2 at the plate. Gray's home run was his fourth and his last six games and he was 2-for-5 with a RBI and two runs scored.
Tennessee Tech starter Evan Fraliex (2-2) suffered the loss after allowing seven runs (six earned) on nine hits in four innings. Hopkins paced the TTU offense with a 2-for-4, four RBI performance.
Box Score
Tennessee Tech (10-15 / 4-7) -vs- Austin Peay (13-10 / 7-4)
| | 1 | 2 | 3 | 4 | 5 | 6 | 7 | 8 | 9 | R | H | E |
| --- | --- | --- | --- | --- | --- | --- | --- | --- | --- | --- | --- | --- |
| Tennessee Tech | 1 | 2 | 1 | 1 | 0 | 0 | 0 | 0 | 3 | 8 | 10 | 2 |
| Austin Peay | 1 | 1 | 3 | 2 | 0 | 0 | 2 | 0 | X | 9 | 13 | 3 |
W: GAURA, A.J. (1-0)     L: FRALIEX, Evan (2-2)S:SPARKS, John (1)
Tennessee Tech 8
| | Player | AB | R | H | RBI | BB | SO | LOB |
| --- | --- | --- | --- | --- | --- | --- | --- | --- |
| cf | ALLEN, David | 5 | 0 | 0 | 0 | 0 | 2 | 1 |
| lf | BRAZELTON, Tyler | 2 | 1 | 0 | 0 | 3 | 1 | 0 |
| ss | BOSHEERS, Dylan | 4 | 3 | 3 | 1 | 1 | 0 | 2 |
| 1b | CHAMBERS, Chase | 4 | 0 | 0 | 0 | 1 | 1 | 0 |
| dh | FLICK, Ryan | 4 | 1 | 1 | 1 | 1 | 2 | 0 |
| c | HOPKINS, Jordan | 4 | 2 | 2 | 4 | 1 | 1 | 2 |
| rf | EL CHIBANI, Anthony | 3 | 0 | 1 | 0 | 1 | 1 | 3 |
| 2b | PUTZIG, Trevor | 5 | 1 | 2 | 1 | 0 | 0 | 0 |
| 3b | PANKRATZ, Josh | 4 | 0 | 1 | 0 | 0 | 0 | 0 |
| ph | CUNNINGHAM, Matt | 1 | 0 | 0 | 0 | 0 | 1 | 2 |
| p | FRALIEX, Evan | 0 | 0 | 0 | 0 | 0 | 0 | 0 |
| p | KEATTS, Kyle | 0 | 0 | 0 | 0 | 0 | 0 | 0 |
| p | GODWIN, Kyle | 0 | 0 | 0 | 0 | 0 | 0 | 0 |
| | Totals | 36 | 8 | 10 | 7 | 8 | 9 | 10 |
Batting
2B: FLICK, Ryan (1); HOPKINS, Jordan (1)
HR:BOSHEERS, Dylan (1); HOPKINS, Jordan (1); PUTZIG, Trevor (1)
Baserunning
CS:BRAZELTON, Tyler (1)
HBP:EL CHIBANI, Anthony (1)
Fielding
E:CHAMBERS, Chase (1); HOPKINS, Jordan (1)
Austin Peay 9
| | Player | AB | R | H | RBI | BB | SO | LOB |
| --- | --- | --- | --- | --- | --- | --- | --- | --- |
| cf/rf | MASSONI, Patrick | 4 | 1 | 1 | 1 | 0 | 2 | 0 |
| lf | BREDLAU, Cayce | 5 | 1 | 1 | 0 | 0 | 0 | 2 |
| 3b | GRAY, Logan | 5 | 2 | 2 | 1 | 0 | 2 | 0 |
| rf | WILSON, Josh | 2 | 0 | 2 | 2 | 1 | 0 | 0 |
| pr/cf | HAMILTON, Chase | 0 | 1 | 0 | 0 | 0 | 0 | 0 |
| 2b | COPELAND, Garrett | 4 | 2 | 3 | 1 | 0 | 0 | 0 |
| dh | ROBLES, Alex | 3 | 1 | 1 | 1 | 0 | 0 | 2 |
| 1b | GLEASON, Dre | 4 | 0 | 1 | 2 | 0 | 1 | 0 |
| c | MITCHELL, Caleb | 3 | 1 | 0 | 0 | 0 | 1 | 0 |
| ss | WILLIS, Imani | 4 | 0 | 2 | 0 | 0 | 1 | 2 |
| p | COSTANZO, Michael | 0 | 0 | 0 | 0 | 0 | 0 | 0 |
| p | GAURA, A.J. | 0 | 0 | 0 | 0 | 0 | 0 | 0 |
| p | PRIMASING, Levi | 0 | 0 | 0 | 0 | 0 | 0 | 0 |
| p | LINDLEY, Hunter | 0 | 0 | 0 | 0 | 0 | 0 | 0 |
| p | SPARKS, John | 0 | 0 | 0 | 0 | 0 | 0 | 0 |
| | Totals | 34 | 9 | 13 | 8 | 1 | 7 | 6 |
Batting
2B:WILSON, Josh (1); COPELAND, Garrett (1); ROBLES, Alex (1); GLEASON, Dre (1); WILLIS, Imani (1)
HR:GRAY, Logan (1)
SF:MASSONI, Patrick (1)
Baserunning
SB:HAMILTON, Chase (1); COPELAND, Garrett (2); WILLIS, Imani (1)
CS:COPELAND, Garrett (1)
HBP:WILSON, Josh (1); ROBLES, Alex (1); MITCHELL, Caleb (1)
Fielding
E:GRAY, Logan (1); WILLIS, Imani (1); COSTANZO, Michael (1)