Austin Peay Sports Information

Clarksville, TN – Austin Peay State University pitcher Natalie Ayala scattered seven hits in limiting Morehead State to one run, Saturday, as the Lady Govs earned a split in their Ohio Valley Conference doubleheader with the Eagles, taking Game 2 by a 5-1 final at Cheryl Holt Field.
The Lady Govs lost the opener, 4-2.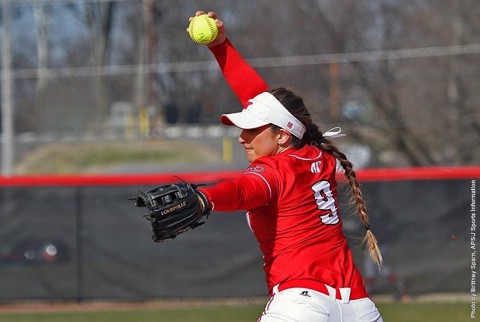 Ayala (4-7) permitted a first-inning run to Morehead State (13-16, 4-5 OVC) off a double by Lindsey Ward, but only allowed five hits over the final six innings. In fact, she finished with a flourish, retiring 10 of the final 11 Eagles hitters she faced.
After falling behind in the opening frame, Austin Peay (8-21, 3-9, OVC) answered back with all the runs it would need in the bottom of the first. Christiana Gable doubled in Laurel Burroughs to tie the game and three batters later Morgan Hoeg brought in Gable with a bases-loaded walk.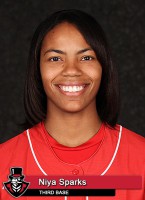 The Lady Govs added a run in the bottom of the second inning on a two-out single by Niya Sparks, scoring Chandler Groves, who reached on an error.
The score remained 3-1 until the bottom of the sixth inning when Hoeg led off the inning with her season's second home run while Groves closed out the inning's scoring with an RBI single scoring Erica Inagaki, who had followed Hoeg's homer with a double.
In Game 1, Morehead State scored three runs in the top of the seventh inning to rally past the Lady Govs, who went into the final frame leading 2-1.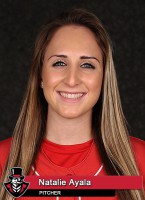 Hannah Murphy opened the inning with a single, and after stealing second, moved to third on an error that allowed Katie Raile to reach. After Raile stole second, Lizzy Margagliotti drove in Murphy with a single to tie the game 2-2. Raile scored the go-head run on the back end of a double steal, wit the Lady Govs throwing Margagliotti out at second.
The inning's final run came on a single by Ward, driving in Kayla McGuffey, who had singled.
Mackenzie Grossmann (8-5) picked up the win for Morehead State, while Sidney Hooper (2-6) took the loss.
The Eagles had taken a second-inning lead off a Raile single before Austin Peay took advantage of two Morehead State errors to score two runs in the bottom of the inning.
Box Score – Game 1
Morehead State (13-15 / 4-4) -vs- Austin Peay (7-21 / 3-8)
| | 1 | 2 | 3 | 4 | 5 | 6 | 7 | R | H | E |
| --- | --- | --- | --- | --- | --- | --- | --- | --- | --- | --- |
| Morehead State | 0 | 1 | 0 | 0 | 0 | 0 | 3 | 4 | 9 | 2 |
| Austin Peay | 0 | 2 | 0 | 0 | 0 | 0 | 0 | 2 | 3 | 1 |
W: GROSSMANN, M. (8-5)     L: HOOPER, Sidney (2-6)
Morehead State 4
| | Player | AB | R | H | RBI | BB | SO | LOB |
| --- | --- | --- | --- | --- | --- | --- | --- | --- |
| cf | McGUFFEY, Kayla | 4 | 1 | 1 | 0 | 0 | 0 | 0 |
| 1b | HUTCHINS, Dana | 3 | 0 | 1 | 0 | 0 | 0 | 0 |
| ss | THOMPSON, Karly | 3 | 0 | 0 | 0 | 1 | 1 | 0 |
| dp | WARD, Lindsay | 3 | 1 | 1 | 1 | 1 | 1 | 1 |
| rf | WATSON, Tressa | 4 | 0 | 1 | 0 | 0 | 1 | 2 |
| c | SIMMONS, Laine | 3 | 0 | 1 | 0 | 0 | 1 | 0 |
| 2b | MURPHY, Hannah | 3 | 1 | 2 | 0 | 0 | 0 | 0 |
| 3b | RAILE, Katie | 3 | 0 | 1 | 1 | 0 | 0 | 0 |
| pr | RHODES, Abigail | 0 | 1 | 0 | 0 | 0 | 0 | 0 |
| lf | MARGAGLIOTTI, L. | 3 | 0 | 1 | 1 | 0 | 1 | 4 |
| p | GROSSMANN, M. | 0 | 0 | 0 | 0 | 0 | 0 | 0 |
| | Totals | 29 | 4 | 9 | 3 | 2 | 5 | 7 |
Batting
2B:MURPHY, Hannah (1)
Baserunning
SB:MURPHY, Hannah (1); RHODES, Abigail (1)
CS:MARGAGLIOTTI, L. (1)
HBP:HUTCHINS, Dana (1)
Fielding
E:THOMPSON, Karly (2)
Austin Peay 2
| | Player | AB | R | H | RBI | BB | SO | LOB |
| --- | --- | --- | --- | --- | --- | --- | --- | --- |
| lf | GROVES, Chandler | 3 | 0 | 0 | 0 | 1 | 0 | 3 |
| 2b | BURROUGHS, Laurel | 3 | 0 | 0 | 0 | 1 | 3 | 0 |
| 1b | GABLE, Christiana | 3 | 0 | 0 | 0 | 0 | 1 | 0 |
| ph | DiBENEDETTO, Vinchen | 1 | 0 | 0 | 0 | 0 | 1 | 0 |
| 3b | SPARKS, Niya | 3 | 0 | 1 | 0 | 0 | 1 | 2 |
| c | PAVEL, Mel | 3 | 0 | 0 | 0 | 0 | 0 | 0 |
| p | HOOPER, Sidney | 3 | 0 | 1 | 0 | 0 | 0 | 0 |
| ss | INAGAKI, Erica | 2 | 1 | 0 | 0 | 0 | 0 | 0 |
| ph | HOEG, Morgan | 0 | 0 | 0 | 0 | 1 | 0 | 0 |
| cf | ARKANSAS, Rikki | 1 | 1 | 0 | 0 | 2 | 1 | 1 |
| rf | BROWER, Courtney | 2 | 0 | 1 | 0 | 0 | 0 | 2 |
| | Totals | 24 | 2 | 3 | 0 | 5 | 7 | 8 |
Baserunning
HBP:BROWER, Courtney (1)
Fielding
E:BURROUGHS, Laurel (1)
Box Score – Game 2
Morehead State (13-16 / 4-5) -vs- Austin Peay (8-21 / 3-9)
| | 1 | 2 | 3 | 4 | 5 | 6 | 7 | R | H | E |
| --- | --- | --- | --- | --- | --- | --- | --- | --- | --- | --- |
| Morehead State | 1 | 0 | 0 | 0 | 0 | 0 | 0 | 1 | 7 | 1 |
| Austin Peay | 2 | 1 | 0 | 0 | 0 | 2 | X | 5 | 6 | 1 |
W: AYALA, Natalie (4-7)     L: SEUFERER, Tanna (5-5)
Morehead State 1
| | Player | AB | R | H | RBI | BB | SO | LOB |
| --- | --- | --- | --- | --- | --- | --- | --- | --- |
| cf | McGUFFEY, Kayla | 4 | 1 | 2 | 0 | 0 | 0 | 2 |
| 1b | HUTCHINS, Dana | 2 | 0 | 0 | 0 | 0 | 1 | 2 |
| ph | SIMMONS, Laine | 1 | 0 | 0 | 0 | 0 | 0 | 0 |
| ss | THOMPSON, Karly | 4 | 0 | 0 | 0 | 0 | 1 | 0 |
| dp | WARD, Lindsay | 3 | 0 | 3 | 1 | 0 | 0 | 0 |
| rf | WATSON, Tressa | 2 | 0 | 0 | 0 | 1 | 2 | 1 |
| 3b | RAILE, Katie | 3 | 0 | 1 | 0 | 0 | 0 | 3 |
| 2b | MURPHY, Hannah | 3 | 0 | 0 | 0 | 0 | 0 | 0 |
| c | LEIGHTON, Robyn | 3 | 0 | 1 | 0 | 0 | 0 | 0 |
| lf | MARGAGLIOTTI, L. | 3 | 0 | 0 | 0 | 0 | 0 | 0 |
| p | SEUFERER, Tanna | 0 | 0 | 0 | 0 | 0 | 0 | 0 |
| p | TYMOREK, Megan | 0 | 0 | 0 | 0 | 0 | 0 | 0 |
| | Totals | 28 | 1 | 7 | 1 | 1 | 4 | 8 |
Batting
2B:WARD, Lindsay (1)
SH:HUTCHINS, Dana (1)
Fielding
E:MURPHY, Hannah (1)
Austin Peay 5
| | Player | AB | R | H | RBI | BB | SO | LOB |
| --- | --- | --- | --- | --- | --- | --- | --- | --- |
| lf | GROVES, Chandler | 4 | 1 | 1 | 1 | 0 | 0 | 0 |
| 2b | BURROUGHS, Laurel | 1 | 1 | 0 | 0 | 1 | 0 | 0 |
| 1b | GABLE, Christiana | 3 | 1 | 1 | 1 | 0 | 1 | 0 |
| 3b | SPARKS, Niya | 2 | 0 | 1 | 1 | 1 | 1 | 0 |
| c | PAVEL, Mel | 3 | 0 | 1 | 0 | 0 | 1 | 2 |
| dp | HOEG, Morgan | 2 | 1 | 1 | 2 | 1 | 0 | 0 |
| ss | INAGAKI, Erica | 3 | 1 | 1 | 0 | 0 | 1 | 0 |
| cf | ARKANSAS, Rikki | 2 | 0 | 0 | 0 | 0 | 0 | 3 |
| ph/cf | LAKE, Marissa | 1 | 0 | 0 | 0 | 0 | 0 | 0 |
| rf | BROWER, Courtney | 3 | 0 | 0 | 0 | 0 | 2 | 0 |
| p | AYALA, Natalie | 0 | 0 | 0 | 0 | 0 | 0 | 0 |
| | Totals | 24 | 5 | 6 | 5 | 3 | 6 | 5 |
Batting
2B:GABLE, Christiana (1); INAGAKI, Erica (1)
HR:HOEG, Morgan (1)
Baserunning
HBP:BURROUGHS, Laurel (1)
Fielding
E:SPARKS, Niya (1)