Austin Peay Sports Information

Clarksville, TN – Austin Peay State University's softball team lost a slugfest and a pitcher's duel versus Evansville, Wednesday at Cheryl Holt Field, dropping a 15-8 decision in the opener and a 3-2 final — in eight innings — in the nightcap.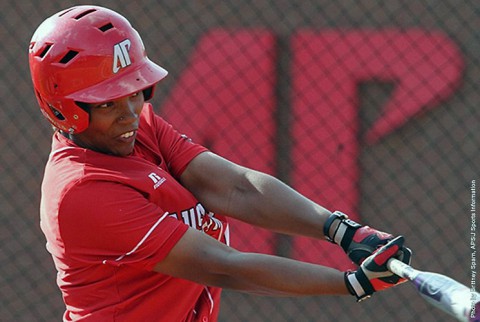 The Lady Govs (8-23) fell behind the Purple Aces 4-0 after two-and-a-half innings, in Game 1, but rallied for six runs in the bottom of the third to take a 6-4 lead.
Evansville (9-30) would get the first out in the bottom of the third inning, but Chandler Groves, Laurel Burroughs and Christiana Gable followed with three straight hits to load the bases.
That brought up Niya Sparks, who blasted a 1-1 pitch over the center field wall for her seventh home run of the season, which tied the game 4-4.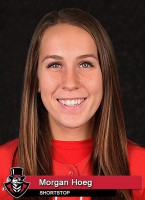 Morgan Hoeg and Mel Pavel would follow the Sparks home run with back-to-back singles, and after a ground out, both scored on a single by Rikki Arkansas.
But the Lady Govs couldn't slow the Purple aces offense, as they answered right back with five runs of their own in the top of the fourth to take the lead, 9-6.
Austin Peay would cut the deficit to one run, 9-8, in the bottom of the inning on a two-run homer by Gable – her seventh of the year.
But that would be as close as the Lady Govs would get the rest of the way, with Evansville scoring two more times in the top of the fifth inning and four more times in the sixth for the 15-8 final.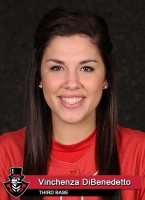 The Lady Govs would get off to a better start in Game 2, jumping out to a 1-0 lead in the bottom of the first inning on a double off the fence by Vinchenza DiBenedetto – driving in Burroughs, who had singled.
The score would remain that way until the top of the fourth inning, when Evansville tied the game 1-1 on a two-out double.
The Purple Aces would take the lead in the top of the sixth with a run, but Austin Peay answered right back in the bottom of the inning with an RBI double from Groves, bring in Arkansas, who had opened the inning with a single.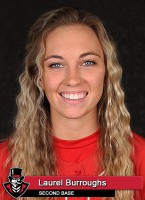 The game would go into extra innings, after both teams failed to score in the seventh – the first extra-inning game of the year for Austin Peay.
Evansville would push across what turned out to be the game-winning run in the top of the eighth when Lady Govs starting pitcher Natalie Ayala hit Chandra Parr with a pitch with the bases loaded to force in a run.
Austin Peay would get the tying run to third, with no outs, but Evansville would retire the next three Lady Govs in order to seal away the victory.
Box Score – Game 1
Evansville (8-30) -vs- Austin Peay (8-22)
| | 1 | 2 | 3 | 4 | 5 | 6 | 7 | R | H | E |
| --- | --- | --- | --- | --- | --- | --- | --- | --- | --- | --- |
| Evansville | 0 | 2 | 2 | 5 | 2 | 4 | 0 | 15 | 16 | 0 |
| Austin Peay | 0 | 0 | 6 | 2 | 0 | 0 | 0 | 8 | 12 | 3 |
W: Blankenship,Amanda (6-20)     L: HOOPER, Sidney (2-7)
Evansville 15
| | Player | AB | R | H | RBI | BB | SO | LOB |
| --- | --- | --- | --- | --- | --- | --- | --- | --- |
| 3b/2b | Parr,Chandra | 3 | 2 | 1 | 2 | 1 | 0 | 0 |
| ss | Luckett,Michal | 5 | 2 | 3 | 2 | 0 | 0 | 0 |
| dp | Freeman,Danielle | 4 | 1 | 2 | 4 | 0 | 0 | 2 |
| ph/rf | Tracy,Haylee | 1 | 0 | 0 | 0 | 0 | 0 | 0 |
| 2b | Ferguson,Mariah | 3 | 0 | 0 | 0 | 1 | 0 | 0 |
| ph/3b | Childress,Brooke | 1 | 0 | 1 | 0 | 0 | 0 | 0 |
| c | Scott,Hayli | 4 | 2 | 1 | 0 | 1 | 0 | 1 |
| rf | Fahse, Abbi | 4 | 3 | 2 | 2 | 0 | 0 | 1 |
| lf | Kawall,Ashlee | 2 | 1 | 1 | 0 | 0 | 0 | 0 |
| cf | Land,Courtney | 4 | 2 | 3 | 3 | 0 | 0 | 0 |
| 1b | Lambert,Morgan | 4 | 2 | 2 | 2 | 0 | 1 | 1 |
| p | Blankenship,Amanda | 0 | 0 | 0 | 0 | 0 | 0 | 0 |
| | Totals | 35 | 15 | 16 | 15 | 3 | 1 | 5 |
Batting
HR:Parr,Chandra (1); Freeman,Danielle (1); Fahse, Abbi (1); Lambert,Morgan (1)
SH:Kawall,Ashlee (2)SF:Parr,Chandra (1)
Baserunning
SB:Kawall,Ashlee (1)
Austin Peay 8
| | Player | AB | R | H | RBI | BB | SO | LOB |
| --- | --- | --- | --- | --- | --- | --- | --- | --- |
| lf | GROVES, Chandler | 4 | 1 | 2 | 0 | 0 | 0 | 0 |
| 2b | BURROUGHS, Laurel | 3 | 2 | 2 | 0 | 1 | 0 | 0 |
| 1b | GABLE, Christiana | 4 | 2 | 2 | 2 | 0 | 1 | 0 |
| 1b | EISENBRAUN, Ashley | 0 | 0 | 0 | 0 | 0 | 0 | 0 |
| 3b | SPARKS, Niya | 4 | 1 | 2 | 4 | 0 | 2 | 2 |
| dp | HOEG, Morgan | 4 | 1 | 2 | 0 | 0 | 0 | 0 |
| c | PAVEL, Mel | 3 | 1 | 1 | 0 | 0 | 0 | 1 |
| ss | INAGAKI, Erica | 3 | 0 | 0 | 0 | 0 | 0 | 0 |
| ph | DiBENEDETTO, Vinchen | 1 | 0 | 0 | 0 | 0 | 0 | 0 |
| cf | ARKANSAS, Rikki | 3 | 0 | 1 | 2 | 0 | 0 | 1 |
| rf | BROWER, Courtney | 3 | 0 | 0 | 0 | 0 | 0 | 1 |
| p | HOOPER, Sidney | 0 | 0 | 0 | 0 | 0 | 0 | 0 |
| p | BLACKWOOD, Allie | 0 | 0 | 0 | 0 | 0 | 0 | 0 |
| | Totals | 32 | 8 | 12 | 8 | 1 | 3 | 5 |
Batting
HR:GABLE, Christiana (1); SPARKS, Niya (1)
SH:PAVEL, Mel (1)
Fielding
E:GROVES, Chandler (1); SPARKS, Niya (1); BLACKWOOD, Allie (1)
Box Score – Game 2
Evansville (9-30) -vs- Austin Peay (8-23)
| | 1 | 2 | 3 | 4 | 5 | 6 | 7 | 8 | R | H | E |
| --- | --- | --- | --- | --- | --- | --- | --- | --- | --- | --- | --- |
| Evansville | 0 | 0 | 0 | 1 | 0 | 1 | 0 | 1 | 3 | 11 | 3 |
| Austin Peay | 1 | 0 | 0 | 0 | 0 | 1 | 0 | 0 | 2 | 8 | 4 |
W: Dopart,Cecilia (1-4)    L: AYALA, Natalie (4-8)
Evansville 3
| | Player | AB | R | H | RBI | BB | SO | LOB |
| --- | --- | --- | --- | --- | --- | --- | --- | --- |
| 3b | Parr,Chandra | 4 | 0 | 0 | 1 | 0 | 0 | 1 |
| ss | Luckett,Michal | 5 | 0 | 2 | 0 | 0 | 0 | 3 |
| dp | Freeman,Danielle | 4 | 0 | 1 | 0 | 0 | 0 | 0 |
| 2b | Ferguson,Mariah | 4 | 0 | 2 | 0 | 0 | 1 | 1 |
| c | Scott,Hayli | 4 | 1 | 0 | 0 | 0 | 0 | 5 |
| rf | Fahse, Abbi | 3 | 1 | 2 | 0 | 1 | 0 | 0 |
| lf | Kawall,Ashlee | 2 | 1 | 1 | 0 | 1 | 0 | 0 |
| cf | Land,Courtney | 4 | 0 | 2 | 1 | 0 | 0 | 0 |
| 1b | Lambert,Morgan | 3 | 0 | 1 | 0 | 0 | 1 | 2 |
| ph | Tracy,Haylee | 1 | 0 | 0 | 0 | 0 | 1 | 0 |
| p | Dopart,Cecilia | 0 | 0 | 0 | 0 | 0 | 0 | 0 |
| | Totals | 34 | 3 | 11 | 2 | 2 | 3 | 12 |
Batting
2B:Luckett,Michal (1); Fahse, Abbi (1); Land,Courtney (2)
SH:Kawall,Ashlee (1)
Baserunning
SB:Fahse, Abbi (1)
CS:Scott,Hayli (1); Fahse, Abbi (1)
HBP:Parr,Chandra (1)
Fielding
E:Luckett,Michal (1); Ferguson,Mariah (1); Dopart,Cecilia (1)
Austin Peay 2
| | Player | AB | R | H | RBI | BB | SO | LOB |
| --- | --- | --- | --- | --- | --- | --- | --- | --- |
| lf | GROVES, Chandler | 5 | 0 | 1 | 1 | 0 | 0 | 1 |
| 2b | BURROUGHS, Laurel | 5 | 1 | 3 | 0 | 0 | 1 | 1 |
| dp | DiBENEDETTO, Vinchen | 3 | 0 | 1 | 1 | 0 | 0 | 1 |
| pr | INAGAKI, Erica | 0 | 0 | 0 | 0 | 0 | 0 | 0 |
| 3b | SPARKS, Niya | 1 | 0 | 0 | 0 | 2 | 0 | 0 |
| ss | HOEG, Morgan | 3 | 0 | 1 | 0 | 0 | 2 | 0 |
| c | HILL, Alexis | 2 | 0 | 0 | 0 | 1 | 1 | 2 |
| ph | HOOPER, Sidney | 1 | 0 | 0 | 0 | 0 | 0 | 0 |
| 1b | BLACKWOOD, Allie | 3 | 0 | 0 | 0 | 0 | 1 | 6 |
| ph | EISENBRAUN, Ashley | 1 | 0 | 0 | 0 | 0 | 1 | 0 |
| cf/rf | ARKANSAS, Rikki | 3 | 1 | 2 | 0 | 0 | 0 | 0 |
| ph | PAVEL, Mel | 1 | 0 | 0 | 0 | 0 | 0 | 2 |
| rf | BROWER, Courtney | 2 | 0 | 0 | 0 | 0 | 2 | 0 |
| ph/cf | LAKE, Marissa | 1 | 0 | 0 | 0 | 0 | 1 | 0 |
| p | AYALA, Natalie | 0 | 0 | 0 | 0 | 0 | 0 | 0 |
| | Totals | 31 | 2 | 8 | 2 | 3 | 9 | 13 |
Batting
2B:GROVES, Chandler (1); DiBENEDETTO, Vinchen (1)
SH:DiBENEDETTO, Vinchen (1); HOEG, Morgan (1); LAKE, Marissa (1)
Baserunning
SB:ARKANSAS, Rikki (2)
HBP:SPARKS, Niya (1)
Fielding
E:BURROUGHS, Laurel (2); SPARKS, Niya (1); AYALA, Natalie (1)