Austin Sports Information

Clarksville, TN – Second baseman Garrett Copeland had a program record-tying six hits to lead Austin Peay State University's baseball team to a 14-12 nonconference victory against Middle Tennessee, Wednesday night at Raymond C. Hand Park.
Copeland tied the Austin Peay record with six hits in a game, equaling the mark set by Chad Cunningham during the 2008 season, while also posting the program's first 6-for-6 outing.
Copeland had four singles, a double and a solo home run on the day with three RBI, including the game-winning RBI with two-run single in the seventh inning.
Austin Peay (16-13) batted through the order twice in the contest. The Govs scored three runs and sent nine batters to the plate in the fifth inning as they built a 6-3 lead.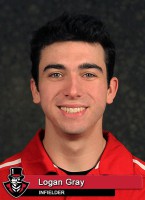 After surrendering the lead in the top of the seventh, Austin Peay sent 11 men to the plate in the bottom of the frame scoring seven runs to build a 14-9 lead they would not relinquish.
The pivotal seventh inning saw the Govs record four hits while receiving three walks and a hit batsman. Copeland's two-run single came on a 0-2 count with the bases loaded and gave APSU a 10-9 lead.
Third baseman Logan Gray added a RBI single then first baseman Dre Gleason pushed in the 12th run with a two-out bases loaded walk. Catcher Ridge Smith pushed the Govs lead to 14-9 with a two-run single.
Middle Tennessee (17-15) led 3-0 after its half of the third inning only to surrender the lead and trailed 7-3 after six innings. However, the Blue Raiders rallied for six runs in the seventh inning as they sent nine batters to the plate.
Designated hitter Austin Norrell hit a two-run single to tie the game, 9-9. He would score on shortstop Austin Bryant's single to give MTSU a 10-9 lead that would only last until the bottom of the inning.
Austin Peay reliever John Sparks (2-0) was credited with the win after allowing three runs on four hits in 1.2 innings. Starting pitcher Jared Carkuff went four innings, along three runs on six hits while striking out four batters.
Copeland's 6-for-6, three RBI outing dominated a 14-hit outing by the Govs offense. Gray had the Govs only other multihit outing, going 2-for-4 with three runs scored and a RBI. Smith went 1-for-2 with two RBI for APSU's only other multi-RBI performance.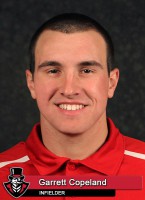 Middle Tennessee reliever Heath Slatton (1-7) suffered the loss after allowing three runs on two hits and two walks while recording only one out. He was the fifth of seven Middle Tennessee pitchers to take the mound.
Right fielder Brad Jarreau went 4-for-5 with a RBI to lead Middle Tennessee's 14-hit attack. Left fielder Jared Allen was 1-for-3 with four RBI, including a three-run home run in the eighth to tighten the score.
Austin Peay continues its six-game homestand with a three-game Ohio Valley Conference series against Belmont. The Govs and Bruins are scheduled to start their series with a 6:00pm, Friday contest at Raymond C. Hand Park.
Box Score
Middle Tennessee (17-15) -vs- Austin Peay (16-13)
| | 1 | 2 | 3 | 4 | 5 | 6 | 7 | 8 | 9 | R | H | E |
| --- | --- | --- | --- | --- | --- | --- | --- | --- | --- | --- | --- | --- |
| Middle Tennessee | 1 | 0 | 2 | 0 | 0 | 0 | 6 | 3 | 0 | 12 | 14 | 2 |
| Austin Peay | 0 | 0 | 3 | 0 | 3 | 1 | 7 | 0 | X | 14 | 14 | 5 |
W: SPARKS, John (2-0)     L: Slatton,Heath (1-7)
Middle Tennessee 12
Player
AB
R
H
RBI
BB
SO
LOB
2b
Delgado,Dustin
4
3
1
0
1
0
1
rf
Jarreau,Brad
5
3
4
1
0
0
0
cf
Jebavy, Ronnie
5
2
2
2
0
0
0
lf
Allen,Jared
3
2
1
4
2
0
0
dh
Norrell,Austin
4
1
1
3
0
1
2
ss
Bryant,Austin
5
0
1
1
0
0
1
1b
Ingold,Jake
5
0
2
0
0
2
0
c
Adkins,Michael
4
0
0
0
0
3
0
ph
King,Kaleb
0
0
0
0
0
0
0
3b
Sullivan,Kevin
5
1
2
0
0
2
2
p
Stansberry,Blake
0
0
0
0
0
0
0
p
Smith,Caleb
0
0
0
0
0
0
0
p
Foriest,Nathan
0
0
0
0
0
0
0
p
Baker,Keaton
0
0
0
0
0
0
0
p
Slatton,Heath
0
0
0
0
0
0
0
p
Ring,Garrett
0
0
0
0
0
0
0
p
Mcdivitt,Tanner
0
0
0
0
0
0
0
Totals
40
12
14
11
3
8
6
Batting
2B:Jarreau,Brad (2); Norrell,Austin (1)
HR:Allen,Jared (1)
SF:Norrell,Austin (1)
Baserunning
SB:Jebavy, Ronnie (1)
CS:Bryant,Austin (1)
HBP:King,Kaleb (1)
Fielding
E:Allen,Jared (1); Sullivan,Kevin (1)
Austin Peay 14
Player
AB
R
H
RBI
BB
SO
LOB
lf
BREDLAU, Cayce
4
1
1
0
1
0
2
cf
HAMILTON, Chase
6
1
1
1
0
3
3
2b
COPELAND, Garrett
6
4
6
3
0
0
0
3b
GRAY, Logan
4
3
2
1
2
1
1
dh
ROBLES, Alex
3
2
1
0
1
0
2
rf
WILSON, Josh
1
0
0
1
1
0
0
ph/rf
MASSONI, Patrick
3
0
1
1
0
2
0
1b
GLEASON, Dre
3
1
0
1
2
2
1
c
MARIK, T.J.
1
0
0
0
1
1
1
ph/c
SMITH, Ridge
2
1
1
2
0
0
0
c
MITCHELL, Caleb
0
0
0
0
0
0
0
ss
WILLIS, Imani
3
1
1
0
2
1
1
p
CARKUFF, Jared
0
0
0
0
0
0
0
p
COSTANZO, Michael
0
0
0
0
0
0
0
p
KIMBEL, Keirce
0
0
0
0
0
0
0
p
SPARKS, John
0
0
0
0
0
0
0
p
WALTON, Zach
0
0
0
0
0
0
0
Totals
36
14
14
10
10
10
11
Batting
2B:COPELAND, Garrett (1)
HR:HAMILTON, Chase (1); COPELAND, Garrett (1)
SH:ROBLES, Alex (1)
Baserunning
SB:GRAY, Logan (1); SMITH, Ridge (1)
HBP:BREDLAU, Cayce (1); SMITH, Ridge (1)
Fielding
E:GRAY, Logan (3); WILLIS, Imani (1); CARKUFF, Jared (1)