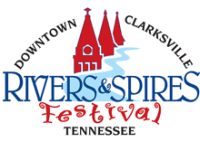 Clarksville, TN – Clarksville's Rivers and Spires Festival begins tonight, Friday, April 17th at 5:00pm. Come out and music, artistic exhibits, thrilling competitions, and vendor booths.
The Northeast High School Exit One and JV Show Choirs will start things off on the Courthouse Stage at 5:00pm. Also at 5:00pm, Khamsin will be on the Strawberry Alley Stage, Few Miles On will play on the Public Square Stage and The Art of Hula will be on the Main and Third Stage.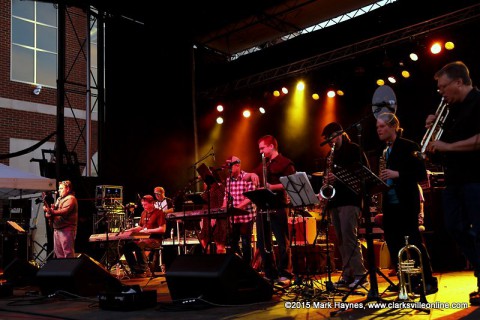 Quilts of the Cumberland quilt exhibit will open from 5:00pm until 8:00pm at the Madison Street United Methodist Church. This free show will display local artisans with a variety of quilts from traditional to one-of-a-kind art quilts. Quilt categories are Traditional Bed Quilt, Non-Traditional Bed Quilt and Art/Wall Quilt.
Gig City Gaming presented by CDE starts at 6:00pm and continues until 9:00pm. You can choose from more than 160 video games, including virtual reality and multiplayer games, in the Gig City Gaming area located in the underground parking garage located off Franklin Street. Parents and players can stay in the know and be aware of the game's maturity ratings by signs on the street and online at www.riversandspires.com
Love and Theft will headline Friday's Rivers and Spires Festival. The duo with their latest chart – climbing single, "Whiskey On My Breath" is set to perform at 9:00pm on the public square stage.
Love and Theft, comprised of Stephen Barker Liles and Eric Gunderson, have three widely acclaimed albums and numerous hits. This year they received their third consecutive Vocal Duo Of The Year nomination at the CMA Awards.
Make sure to come out this free event tonight. There will be entertainment for everyone.
About the Rivers and Spires Festival
Limited seating is available around the event. Festival-goers are urged to bring their own folding or camping chairs. It is also recommended that attendees buy their food and drink tickets early to avoid long lines. Tickets for food and beverages will go on sale at various booths throughout downtown when the Festival pens.
Credit/debit cards will be accepted at all of the ticket booths. We encourage everyone to recycle their plastic and aluminum while at the Festival, so recycling bins will also be placed everywhere a trash bin can be found. No pets or firearms are allowed at this year's Festival. If you bring them to the Festival you will be asked to leave.
The Festival will take place rain or shine.
Festival hours are:
Friday, April 17th – 5:00pm–10:00pm
Saturday, April 18th – 10:00am–8:00pm
For more information and a complete schedule, visit www.riversandspires.com