Clarksville, TN – In response to last September's vicious attack of a gay Philadelphia couple, Roxy Regional Theatre executive director Tom Thayer felt compelled to produce Neil LaBute's bash: latterday plays.
A trio of darkly brilliant, unblinking portraits of evil in everyday life, this collection of one-act plays will be presented in theotherspace for three more performances only, May 26th – June 2nd.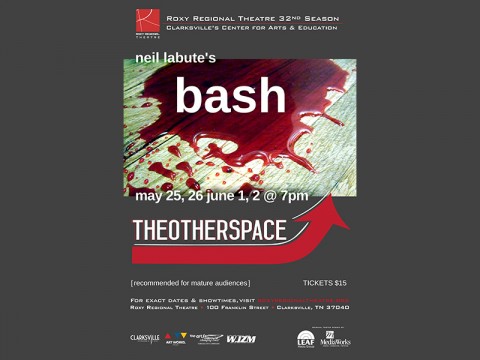 One of today's most critically-acclaimed playwrights, screenwriters and directors, Neil LaBute is known for his raw intensity and penchant for pushing the boundaries of entertainment. His first published play, bash was so controversial it led to the author's disfellowship from the Church of Jesus Christ of Latter-day Saints.

Ryan Bowie and Corinne Bupp tackle this trio of unforgettable personal accounts, a collection of monologues loosely based on three Greek myths. In "Medea Redux," a woman tells of her complex and ultimately tragic relationship with her junior high school English teacher; in "Iphigenia In Orem," a Utah businessman confides in a stranger in a Las Vegas hotel room, confessing a most chilling crime; and in "A Gaggle of Saints," a young Mormon couple separately recounts the violent events of an anniversary weekend in New York City.

Due to language and content, bash is recommended for mature audiences. This production is made possible in part through the generous support of Jill Eichhorn and Barry Kitterman.

bash is presented in theotherspace, the 50-seat black-box theatre located upstairs at the Roxy, and plays at 7:00pm May 26th, June 1st and June 2nd. Tickets are $15.00 and may be purchased online at www.roxyregionaltheatre.org , by phone at 931.645.7699, or at the theatre during regular box office hours (9:00am to 2:00pm, Monday through Friday, and one hour prior to curtain).

The Roxy Regional Theatre is located at 100 Franklin Street in Clarksville, TN.



Sections
Events
Topics
Barry Kitterman, bash: latterdays, Church of Jesus Christ of Latter-Day Saints, Clarksville TN, Corinne Bupp, Franklin Street, Jill Eichhorn, Roxy Regional Theatre, Ryan Bowie, theotherspace, Tom Thayer