Clarksville, TN – Clarksville Police Detective Dennis Honholt is requesting the public's assistance in identifying a suspect in a Counterfeiting case. The suspect purchased lottery tickets at the Shell Station located at 1230 Tylertown Road on May 17th, 2015 at 12:10am.
To pay for the lottery tickets, one of the bills the suspect handed the clerk was a counterfeit one hundred dollar bill. The clerk said that she could see a bunch of other one hundred dollar bills in his hand and believed they were counterfeit as well.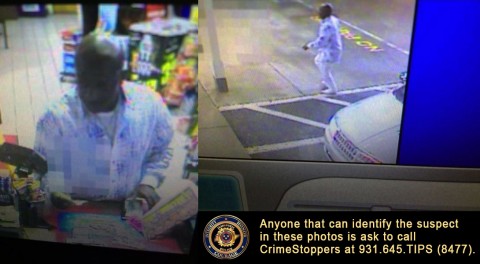 The clerk's description of the suspect was that he was a black male in his 40's or 50's and bald.
Detective Honholt has provided still photos from the Shell Station's security cameras.
If anyone can identify the suspect in the photos or has any information about this incident, please call Detective Honholt at 931.648.0656 Ext. 5260 or the CrimeStoppers TIPS Hotline at 931.645.TIPS (8477).