Clarksville, TN – On Wednesday, October 28th, 2015, the Hastings located at 1600 Fort Campbell Boulevard was robbed between 10:50am and 11:00am. Clarksville Police put out a request for public help to identify the robbery suspect.
Yesterday, October 28th, 2015, the suspect was identified as 26-year-old Nicholas Jeffery Hull from Clarksville. Detective Kevin A Shaw secured a warrant on Hull for the Robbery at Hastings.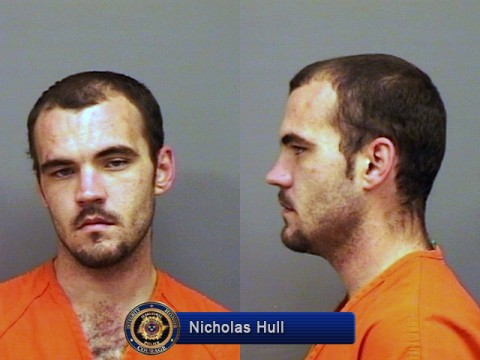 In the early morning hours this morning, October 29th, 2015, CPD Officer Brandon Hendricks took Hull into custody and he was booked into Montgomery County Jail.

His bond amount for the Robbery is $75,000.
Nicholas Hull
Name: Nicholas Jeffery Hull
Gender: M
Race: W
Address: Armistead Drive, Clarksville, TN
Arresting Officer: Brandon Hendricks
Charged With: Two Counts Evading Arrest, Driving on Revoked or Suspended License, Seat Belts Required, Theft of Property, Robbery, Probation Violation, Drugs – Initiation Proc. w/Intent to Result Manufacturing Meth, Aggravated Child Abuse and Neglect
Booked Into: Montgomery County Jail
Bond: $125,000.00
Sections
News
Topics
Aggravated Child Abuse, Armistead Drive, Bond, Clarksville Police, Clarksville Police Department, Clarksville TN, CPD, Driving on Revoked License, Evading Arrest, Fort Campbell Boulevard, Hastings, Kevin Shaw, Montgomery County jail, Probation Violation, robbery, Seat Belt Violation, Theft of Property, Warrant