APSU Sports Information

Nashville, TN – Austin Peay State University men's tennis team experienced its first road match of 2016, coming out on the wrong end of a 5-2 decision at Lipscomb, Friday.
The Govs (0-2) received strong play from the No. 5 and 6 singles positions.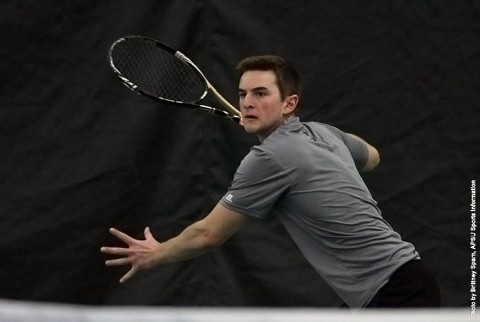 Junior
James Mitchell
improved to 2-0 on the season with an 8-3 victory over John Tougher, while freshman
Alex Kartsonis
picked up his first singles victory after defeating Kauai Lindardi, 8-6.
However, Lipscomb (1-4) captured the remaining points on the night, beginning with doubles action at the Richland Country Club.
Beginning at No. 1, Rob Mitchell and Philippe Courteau handed the team of Mitchell and fellow junior Aaron Jumonville their first loss, 6-2. Alejandro Manzanares and Daniel Cardenas followed with a 6-3 win over APSU's Manuel Montenegro and Almantas Ozelis, while Tougher and Thais Minet capped it off, defeating Aleh Drobysh and Evan Borowski, 6-4.
In remaining singles play, Austin Peay's top four competitors came up short against the host Bisons. Rob Mitchell defeated Jumonville, 6-1, 6-2, Manzanares won over Montenegro, 6-4, 6-2, Courteau claimed straight sets over Ozelis and Cardenas prevailed over Drobysh, 6-3, 6-3.
The Govs will quickly change directions, with an away match at Southern Indiana awaiting them Saturday at 5:00pm.
Box Score
Singles
No. 1 – Rob Mitchell (LIP) def. Aaron Jumonville (APSU), 6-1, 6-2
No. 2 – Alejandro Manzanares (LIP) def. Manuel Montenegro (APSU), 6-4, 6-2
No. 3 – Philippe Courteau (LIP) def. Almantas Ozelis (APSU), 6-3, 6-3
No. 4 – Daniel Cardenas (LIP) def. Aleh Drobysh (APSU), 6-3, 6-3
No. 5 – James Mitchell (APSU) def. John Tougher (LIP), 8-3
No. 6 – Alex Kartsonis (APSU) def. Kauai Lindardi (LIP), 8-6
Doubles
No. 1 – Mitchell/Courteau (LIP) def. Jumonville/Mitchell (APSU), 6-2
No. 2 – Manzanares/Cardenas (LIP) def. Montenegro/Ozelis (APSU), 6-3
No. 3 – Tougher/Minet (LIP) def. Drobysh/Evan Borowski (APSU), 6-4