APSU Sports Information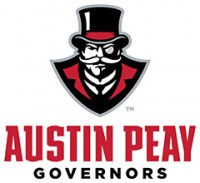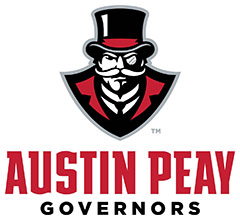 Clarksville, TN – Probably no one has exemplified the term student-athlete more in Austin Peay State University athletics history than Carrie Burggraf. Few have accomplished as much as Burggraf did as a track and field performer—she was a five-time OVC pole vault champion—and no one achieved what she did outside the field of competition.
And with all those accomplishments also has come induction into the APSU Athletics Hall of Fame, 9:00am, Saturday, in the Dunn Center's front lobby.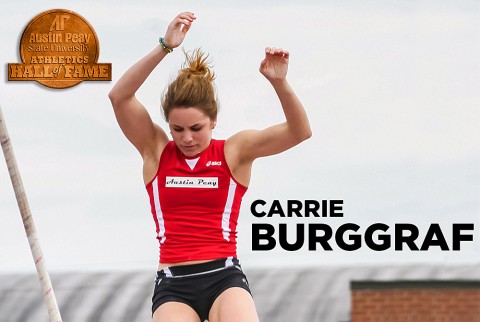 Doug Molnar
historically has gone to his native state to find pole vault competitors. Molnar and the Lady Govs literally vaulted to the OVC lead in that specialty in the later 2000s with two Ohioans, Molly Bartkiewicz (Westlake, Ohio) and Burrgraf (Marion, Ohio) arriving in 2006 as freshmen.
By the following spring Burggraf already was making her mark in the vault. Although injuries interrupted her freshman season, she qualified for the NCAA Indoor championships pole vault in 2007. However, a back injury prevented her from competition during the outdoor season.
But with the injury healed she literally vaulted upward the following year. In the 2008 indoor campaign, she captured four first-place finishes, twice tying with teammate Molly Bartkiewicz, while never finishing lower than fourth.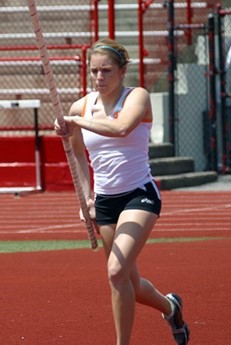 Then she earned six top-five finishes in her sophomore outdoor campaign. Burggraf claimed her first OVC title with a 3.73-meter vault, narrowly edging Bartkiewicz at Southeast Missouri's Stuber Track Complex. That spring she competed in her first NCAA Regional at the University of Arkansas.
As a junior in 2009, Burggraf never finished worse than sixth during the indoor season. She saved her best for last, setting the school indoor record at the OVC Championship with a 3.80-meter vault, winning her second OVC championship at Eastern Illinois' Lantz Indoor Fieldhouse.
She picked up where she left off in the outdoor, setting the school outdoor mark with a 3.85-meter vault to open the campaign. She went on to capture her third consecutive OVC pole vault title with a 3.75-meter mark at the outdoor championships hosted by Eastern Kentucky and earning a trip to the NCAA Regional in Louisville, Kentucky. In addition, she was named APSU's Most Outstanding Female Athlete that spring.
Burggraf capped off her exceptional field career with an even stronger senior season. She hit the 13-foot mark in the 2010 OVC championships at Tennessee State, holding off teammate Bartkiewicz in a jump off after both posted 3.96-meter mark. She was named OVC Female Indoor Athlete of the year for her performance.
Then during the outdoor season she vaulted 4.09 meters (13 feet, 5 inches) at Tennessee Tech, not only shattering her OVC Outdoor championship record but claiming her fifth straight OVC pole vault title—she became the first OVC pole vaulter in history to clear 13 feet outdoors. She also made her third straight NCAA Regional appearance, this time at North Carolina A&T. Burggraf was selected as APSU's Female Legends Award recipient as the most valuable senior athlete.
Her on-field performance only tells half the amazing Burggraf story. She earned second-team CoSIDA Academic All-America as a junior and first-team as a senior. Graduating with a 4.0 GPA, she earned the OVC Medal of Honor (highest GPA in a conference-sponsored sport) for four straight years.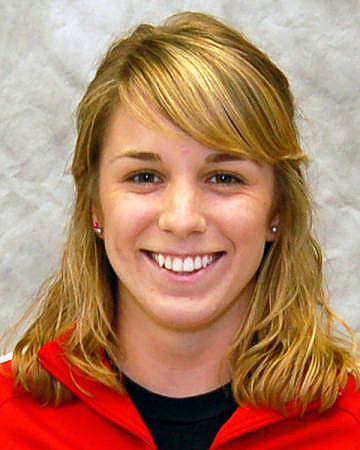 Burggraf is the only athlete in OVC history to twice earn the prestigious OVC Scholar-Athlete Award, becoming the first junior student-athlete to earn such distinction because she held the necessary academic credits to qualify.  She also became the only two-time winner of the league's prestigious Steve Hamilton Sportsmanship Award.
As a junior she was honored with Perkins Freeman Scholarship and the following year as the Perkins Freeman Award recipient—the award is based upon highest GPA of rising junior (scholarship) and graduate (award). As a senior she received the John Burgess Award as APSU's top political science scholar—she earned the prestigious Jimmy Carter Center Peace Program internship during Summer 2008.
Burggraf was APSU and the OVC's Women of the Year nominee for 2010 and then received the esteemed NCAA Post-Graduate Scholarship as she continued her studies at the University of Pittsburgh.
For more information about Saturday's Hall of Fame breakfast in the Dunn Center front lobby, telephone Tara Pfeifler, 931.221.6119 or email pfeiflerT@aspsu.edu.