APSU Sports Information

Edwardsville, IL – Kacy Acree drove in two runs, while Autumn Hanners threw the first shutout for the APSU Lady Govs since April 2014, Sunday at Cougars Field, as Austin Peay State University's softball team opened up Ohio Valley Conference play with a 2-0 victory over the defending regular-season OVC champion Southern Illinois Edwardsville.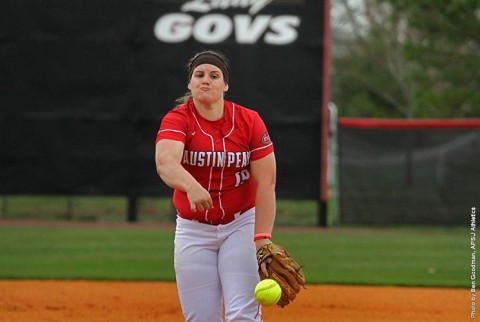 It wouldn't take long for the Governors (5-13, 1-0 OVC) to get scoreboard, with
Chandler Groves
and Acree opening the game with back-to-back doubles – with Acree's hitting the top of the fence in center field and bouncing back onto the field — for the quick 1-0 lead.
As it turned out that would be all the runs that the Govs would need, with Hanners (3-6) holding the Cougars (6-12, 0-1 OVC) scoreless on just three hits, while walking three and striking out three.
The shutout was the first for Austin Peay since former All-OVC performer Lauren de Castro shutout Middle Tennessee on April, 9th, 2014 and the first time APSU had shutout an OVC opponent since a 2-0 win over Tennessee State on March 23rd, 2014 – also by de Castro.
Austin Peay's other run came in the top of the fifth inning, with Acree blasting her team-best third home run of the season over the right-field fence to start the inning.
Acree and Rikki Arkansas led the Govs with three hits each, while Groves, Danielle Liermann and Erica Inagaki had the other APSU hits.
Austin Peay will conclude its OVC opening series versus SIUE with a rare Monday doubleheader, beginning at 1:00pm.
Box Score
Austin Peay (5-13 / 1-0) vs. SIU Edwardsville  (6-12 / 0-1)
| | 1 | 2 | 3 | 4 | 5 | 6 | 7 | | | R | H | E |
| --- | --- | --- | --- | --- | --- | --- | --- | --- | --- | --- | --- |
| Austin Peay | 1 | 0 | 0 | 0 | 1 | 0 | 0 | | 2 | 9 | 0 |
| SIU Edwardsville | 0 | 0 | 0 | 0 | 0 | 0 | 0 | | 0 | 3 | 1 |
W: HANNERS, Autumn (3-6) L: Ashley Koziol (3-8)

Austin Peay 2
Position
Player
AB
R
H
RBI
BB
SO
LOB
lf
GROVES, Chandler
4
1
1
0
0
0
3
rf
ACREE, Kacy
4
1
3
2
0
0
2
3b
LIERMANN, Danielle
4
0
1
0
0
0
0
dp
GABLE, Christiana
3
0
0
0
0
2
0
ss
VEDDER, Kendall
4
0
0
0
0
1
1
c
PAVEL, Mel
3
0
0
0
0
0
3
1b
DIBENEDETTO, Vinchen
2
0
0
0
0
1
0
2b
INAGAKI, Erica
2
0
1
0
0
0
0
cf
ARKANSAS, Rikki
3
0
3
0
0
0
0
p
HANNERS, Autumn
0
0
0
0
0
0
0
Totals
29
2
9
2
0
4
9
SIU Edwardsville 0
Position
Player
AB
R
H
RBI
BB
SO
LOB
lf
Alyssa Heren
3
0
0
0
0
1
0
cf
Jordan LaFave
3
0
0
0
0
1
2
2b
Allison Smiley
3
0
0
0
0
0
0
c
Tess Eby
2
0
1
0
1
0
0
1b
Rachel Keller
2
0
1
0
1
0
0
3b
Haley Adrian
2
0
0
0
0
1
2
ph
Maria Prete
1
0
0
0
0
0
1
rf
Whitney Lanphier
2
0
0
0
0
0
1
ph
Kelsey Hansen
1
0
0
0
0
0
0
ss
Amy Hunt
2
0
0
0
1
0
0
pr
Page Clinton
0
0
0
0
0
0
0
dp
Talisa Morton
3
0
1
0
0
0
0
p
Ashley Koziol
0
0
0
0
0
0
0
p
Baylee Douglass
0
0
0
0
0
0
0
Totals
24
0
3
0
3
3
6
 Austin Peay
Player
IP
H
R
ER
BB
SO
WP
BK
HBP
IBB
AB
BF
FO
GO
NP
Hanners, Autumn
(W, 3-6)
7.0
3
0
0
3
3
0
0
0
0
24
27
6
12
124
Totals
3
0
0
3
3
0
0
0
0
24
27
6
12
124
SIU Edwardsville
Player
IP
H
R
ER
BB
SO
WP
BK
HBP
IBB
AB
BF
FO
GO
NP
Ashley Koziol
(L, 3-8)
0.0
2
1
1
0
0
0
0
0
0
2
2
0
0
4
Baylee Douglass
7.0
7
1
1
0
4
0
0
2
0
27
30
11
5
101
Totals
9
2
2
0
4
0
0
2
0
29
32
11
5
105