Clarksville, TN – Looking for activities to keep the kids busy and engaged during this week off from school?  Never fear, the Roxy Regional Theatre has you covered!
Take advantage of our Spring Break Special, a discounted matinee performance of Booth Tarkington's "The Magnificent Ambersons" this Thursday, March 31st at 9:15am.
Admission is $10.00 (cash or check only) and will only be available at the door on a first-come, first-served basis.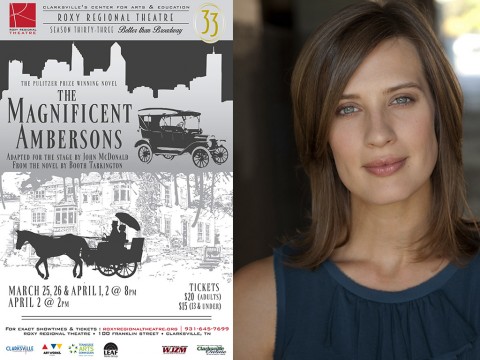 Tickets go on sale Thursday at 8:45am, and seating for this performance is general admission.
The first hour of downtown parking is free, and the show runs approximately 1.5 hours — so you should be good to put a couple hours' worth in the meter.
Check out what an out-of-town critic had to say following last weekend's performances of "The Magnificent Ambersons":
"… a touching and timely cautionary tale …"
"… graceful and elegant staging …"
"… a talented, eclectic and professional ensemble of Roxy newbies and Roxy veterans …"
"… Maggie McCollester brings a grace, beauty and stature to Isabel Amberson — emotionally investing in Isabel's torn devotions and inner struggles …"
If you cannot make it to this Thursday's matinee, you have three final chances to catch this timeless piece about the declining fortunes of a proud Midwestern family and the social changes brought by the automobile age.  Please don't miss it!
Friday, April 1st at 8:00pm
Saturday, April 2nd at 2:00pm
Saturday, April 2nd at 8:00pm
Tickets are $20.00 (adults) and $15.00 (ages 13 and under) and may be purchased online via the below button, by phone at 931.645.7699, or at the theatre during regular box office hours (9:00am to 2:00pm, Monday through Friday, and one hour prior to curtain).
The Roxy Regional Theatre is located at 100 Franklin Street in Clarksville, TN.
* Maggie McCollester is appearing courtesy of Actors' Equity Association, the Union of Professional Actors and Stage Managers in the United States.