APSU Sports Information

Clarksville, TN – Bright spots, particularly on the offensive side of the ball, were evident for Austin Peay State University football as the Governors completed a 90-play scrimmage Saturday at Morgan Brothers Soccer Field, the first under head coach Will Healy.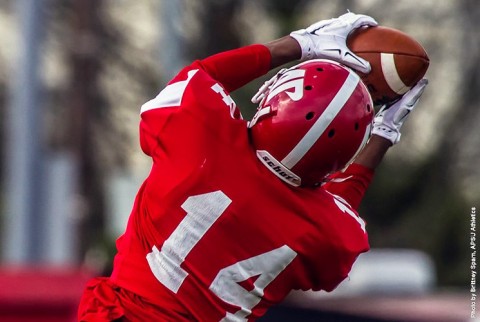 This is not the Governor offense fans have become accustomed to, as the new-look unit under Wes Satterfield's direction was on display right from the start.
Jared Beard took the opening hand-off on a sweep for 15 yards and the Governors, with Timarious Mitchell and Mickey Macius under center, marched 75 yards in nine plays, getting the last 30 on scrambles from Macius, including a 10-yard scamper for a touchdown.
Macius was the catalyst for APSU in the first scrimmage, accounting for three of Austin Peay's four offensive touchdowns. Later, he orchestrated a nine-play, 55-yard drive that featured two passes to Rashaan Coleman, the last a five-yarder for a touchdown.
Macius' last drive of the day saw him go 4-for-6 for 30 yards and end it with a one-yard touchdown toss to Dallin Bridges. He finished the day 9-for-16 passing for 71 yards and two scores and added another 51 yards and a touchdown on five carries.
The Austin Peay ground game was solid as all day, tallying 312 yards on 59 carries, many coming on jet options as Austin Peay looks to spread the offense out more. Three Governors—Macius, Kendall Morris (11 carries, 70 yards), Marvin Franklin (17 carries, 51 yards)—rushed for 50 or more yards, with Morris adding the fourth offensive score of the day on a 25-yard jaunt.
"I thought our tempo was good," Healy said. "I think we've got playmakers on the offensive side of the ball. We've got to establish a quarterback, and I think those three guys battled well today.
With many key members on the other side of the ball forced to sit out the first scrimmage due to a variety of ailments, it offered an opportunity for younger members of the Governor defense to prove themselves to a new coaching staff, with several bright spots emerging. On the second drive of the game, AJ Williams stepped in front of a Darrien Boone pass and took it the other way, outracing everyone and returning it for a touchdown.
Newcomer Jalin Moore also snuffed out a deep Austin Peay drive with an interception in the end zone, and Roderick Owens forced a fumble that was recovered by Shaun Whittinghill as part of a day filled with takeaways for an opportunistic Austin Peay defense. Tyler Schneider led Austin Peay in tackles with eight (four solo), followed by Mykhael Sanford, James Bond and Steven Pappadakes with seven each.
"We don't have a whole lot of depth, especially on the defensive line, but I was excited to see some of those young guys step up and make some plays," Healy said.
Austin Peay's special teams also put some points up on Saturday, with Juantarius Bryant blocking a punt attempt, scooping it and racing to the end zone untouched.
Spring practice continues next week for Austin Peay, and is scheduled to culminate in the April 23rd Spring Game at Governors Stadium.
Video