APSU Sports Information

Murray, KY – Battling cold, windy conditions, APSU women's golf is in fifth place heading to Saturday's final round of the Jan Weaver Invitational, being played at Miller Memorial Golf Course.
Austin Peay State University Lady Govs shot 318-317 for 635. Host Murray State leads the event, shooting 309-310 for 619 in the 13-team tournament.
The 54-hole tourney will conclude Saturday with expected similar conditions.
Despite the sometimes brutal elements, APSU senior Jessica Cathey found a way to shoot the tourney's best round, her 1-over 73 came in the afternoon round as temperatures dropped significantly as the sun went down.
Combined with her opening-round 79, she sits in second place at 152, one shot off the pace set by Murray State's Moa Folke.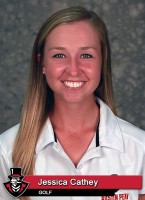 "I am real proud of the way Jessica came back in the second round," APSU coach Sara Robson said. "She made some great up and downs as well as dropping a few birdies."
But Robson also was pleased for the most part with rest of her team. Freshman Ashton Goodley had the team's best opening round (78) and ended the day with an 80, her 158 leaving her tied for 15th.
Twin sister Taylor Goodley shot 79-82 (161) while Morgan Kauffman had back-to-back 82s. Fellow junior Amber Bosworth had a morning-round 83 but stumbled to a 90 in the afternoon.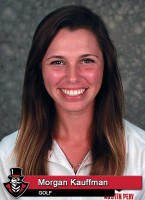 Playing as individuals, junior Kelsey Schutt led the remaining Lady Govs, shooting a 79-84 (163). Sarah Beth Struble followed with a 165 (84-81) while fellow sophomore AnnaMichelle Moore shot 168 (86-82) and junior Morgan Gardner was one stroke back (86-83).
"While not all our scores may show it, the girls fought hard today," Robson said. "They battled the wind and we are proud of their determination—we are proud of how mentally tough they were.
"The course played hard today with the conditions and I felt we thought our way through every shot. We had some wedge shots and chips shot we could have executed better in the first round, but we made those adjustments in the second round. We just couldn't get many putts to fall in the second round but hung in there."
Box Score
Jan Weaver Invitational
Miller Memorial Golf Course
Murray, KY
| | | | | |
| --- | --- | --- | --- | --- |
| Pos. | School – Players | Round 1 | Round 2 | Totals |
| 5 | Austin Peay State University | 318 | 317 | 635 |
| 2 | Jessica Cathey (1) | 79 | 73 | 152 |
| T 15 | Ashton Goodley (3) | 78 | 80 | 158 |
| T 26 | Taylor Goodley (2) | 79 | 82 | 161 |
| T 38 | Morgan Kauffman (4) | 82 | 82 | 164 |
| T 57 | Amber Bosworth (5) | 83 | 90 | 173 |
| | | | | |