1st Brigade Combat Team, 101st Airborne Division (AA) Public Affairs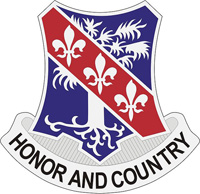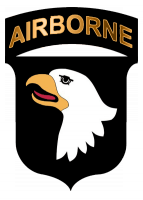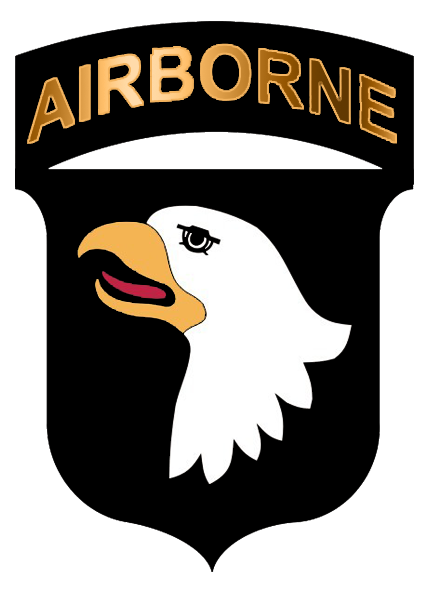 Buchanan, TN – Charlie Rock began the day by learning the basic boat drills, and becoming familiarized with the combat rubber raiding craft (CRRC), also known as the Zodiac.
The Zodiac familiarization taught the Scouts capsizing drills, and how to react in the event of the boat flipping. They learned how to operate the boat, and were instructed on how to do beach landing sight (BLS) operations.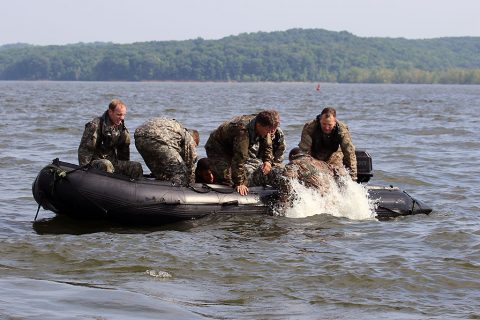 "It was a great opportunity for our guys to train with other units," said 1st Lt. Zachary Williams, 1st Platoon Leader, C Troop, 1-32 CAV. "It gives us another method of insertion when conducting reconnaissance, and now we are trained to do water operations. This gives us another skill set for 1st Brigade to use us for future training or real operations."
Once they were familiar with the Zodiacs, Charlie Rock conducted fast rope insertion extraction system (FRIES) operations during the daytime, and then again at night time. After the Scouts felt confident with FRIES operations, Charlie Rock put the ropes away, and took a dive from an aircraft into the cold lakes for helocast operations.
Prior to the operations, Charlie Rock conditioned and familiarized the Scouts for a type of training they had never conducted to ensure they were prepared to partake in safe training, and to let every Scout feel more comfortable during the actual helocast operation.
"We conducted a standard swim test to identify our best 30 swimmers in the troop, and then we swam in pools that could set the same type of conditions that the water would give us when we actually do the training," Williams said. "We also practiced evacuation procedures, in the event of a casualty during the training."
Williams said Charlie Rock felt prepared for the training before they started, but nothing can prepare you for jumping out of the aircraft, and swimming towards your boat as it floats away from you.
"The guys loved the training, and said that if they could do this kind of stuff every day, then they would continue to stay in the Army," said Williams. "This is the kind of stuff people want to do when they join. This was also one of my favorite experiences in Charlie Rock, and it is fair to say that everyone had a great time."
Charlie Rock was challenged with a new type of training, but it was nothing the Scouts could not handle.
"The hardest part was holding onto the rope when you are getting ready to jump out of the aircraft," said Pfc. John Thomas, 1st Platoon, C Troop, 1-32 CAV. "Night time was tougher too because you can't see the water below you, or how high you are when you are about to jump. It was mentally challenging for sure."
Charlie Rock is even better than before with a high morale and a new skill set. The troop plans to continue to do more training in the future that will challenge their Scouts both mentally and physically.
"I have been with Charlie Troop since November of 2014, and this was by far one of my favorite experiences," Thomas said.