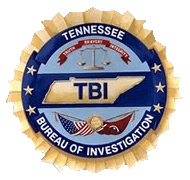 Nashville, TN – A man who was added to the TBI's "Top 10 Most Wanted" list earlier this week, James Bryan Miller, was taken into custody Saturday night after colliding with law enforcement vehicles.
Members of the U.S. Marshals Task Force located Miller at the Ellie Plaza Apartment Complex in Hixson, TN. Marshals attempted to block Miller in, to prevent him from fleeing. As Miller tried to leave the complex, he collided with a Marshal's vehicle and continued his attempt to flee.
At some point during the collision, shots were fired by a member or members of the Marshals Task Force.
When Miller's vehicle eventually stopped, he was taken into custody. The shooting incident remains under investigation by TBI.
Miller, 30, was wanted by the TBI and Chattanooga Police Department to face charges including Aggravated Assault against police and Reckless Endangerment in connection to an extended vehicle chase on August 1st. Miller was added to the TBI's Top 10 list on August 3rd.
Following the collision, Miller was transported to a local hospital for evaluation. Neither he nor any of the officers sustained serious injuries. Complete medical evaluations were still being conducted at the time of this release.