APSU Sports Information

Edwardsville, IL – Austin Peay State University women's soccer team saw its season come to an end in heartbreaking fashion, Sunday, falling 5-4 in a penalty kick shootout at SIU Edwardsville.
The Governors finish the campaign at 10-6-4, their highest win total since 2013.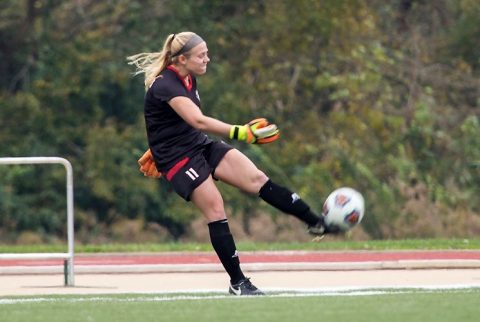 Meanwhile, SIUE advances in the semifinals of the OVC Tournament to play No. 1 seed Murray State on Friday.
With the score level at 0-0 after double overtime, APSU and SIUE went five rounds of penalty kicks to determine a winner. Austin Peay's four players to connect were Jennifer Smith, Nicole Wojcik, Sophia Fabbro and Mary Parker Powell, but SIUE's Avery Anderson clinched the victory for the home team.
In a defensive first half, junior goalkeeper Lindsey Todd came up with three clutch saves, diving to both sides of her body to shield the net. Her save on a shot by Anderson in the 35th minute brought the crowd to life, extending toward the back post to deny a goal.
Austin Peay's brightest goal scoring opportunity came in the 82nd minute, with junior forward Kirstin Robertson's shot hitting the post and bouncing away inches from the line. Robertson totaled two of the team's four shots, while Renee Semaan and Isabel Holmes recorded the additional two.
Todd played the entire 110 minutes plus penalty kicks, making four saves. She finishes the year with a 0.68 goals against average, the second-best mark in program history.
The loss marks the final game for five Austin Peay seniors – Brianna Avitabile, Gina Fabbro, Mary Ruth Locastro, Natalie Smith and Nicole Wojcik.