Clarksville, TN – Clarksville Police responded to a crash between a motorcyclist and a motor vehicle on Warfield Boulevard (Hwy 374) near Raleigh Court Sunday, October 30th, around 2:42pm. There were three people injured in the accident and the westbound lanes blocked.
The motorcyclist has been identified as Lawrence J. McClung, 25, of Clarksville. McClung is still listed in critical condition at Vanderbilt University Medical Center.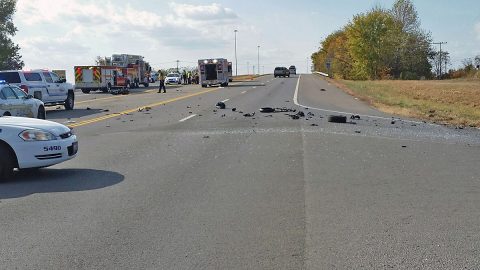 The driver of the Saturn SL1 was Wesley V. Cothern, 56, of Clarksville. Cothern has been treated and released from Tennova Medical Center.
The Saturn passenger, Phyllis L. Fox, 50, of Clarksville, is still in treatment at Tennova Medical Center at this time.
The westbound lanes were reopened after about two hours. Investigation has identified reckless driving of the motorcycle as the cause of the crash, according to Investigator Bill Van Beber.
Anyone with information about this crash is asked to contact Officer Van Beber at 931.648.0656, ext. 5486.