U.S. Army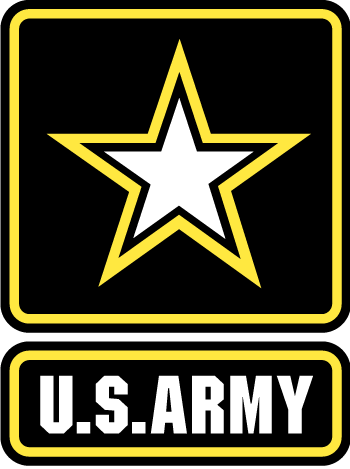 Fort Campbell, KY – Just four months after the last Soldiers from the 2nd Brigade Combat Team, 101st Airborne Division (2/101 Air Assault) returned home from an advise and assist mission in Iraq, the 2/101 "Strike" Brigade is gearing up for a new mission as they bring a light infantry perspective to integrating and evolving communications systems during the Army's signature operational network exercise.
Known as the Network Integration Evaluation (NIE) and taking place at Fort Bliss, Texas, in July, the exercise is designed to help the Army keep pace with rapid advances in communications technologies and deliver integrated network and mission command capabilities to support readiness.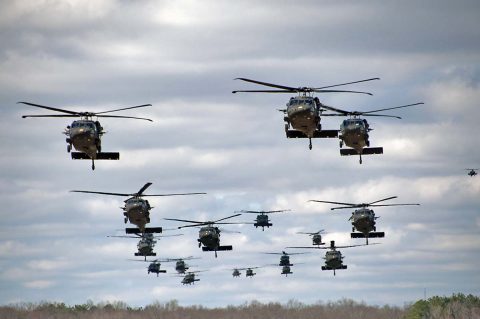 This is the first time since the 2011 inception of the NIE series that a light infantry force will serve as lead test unit at the NIE.
During the almost two-week evaluation taking place across the harsh, mountainous desert terrain of Fort Bliss, the 2/101's 1st Battalion, 26th Infantry Regiment (1-26) will employ a full range of military operations, including a platoon live-fire exercise and artillery air assault, as it pushes its network and communications equipment across vast distances and austere locations.
At the same time it will face a free-thinking opposing force, or OPFOR, that will receive intelligence to help them disrupt operations through both traditional and non-traditional means.
"The NIE is an excellent opportunity to train on infantry-related skills and also develop the mission command systems I need, overlaid on a new set of technological devices that are going to enable my communications infrastructure across the battalion," said Lt. Col. Keith Carter, who took command of 1-26 in April. "This is just a great opportunity to exercise those systems. Then we'll get to establish the battalion in an austere environment and exercise some of our core infantry tasks. We also have to evaluate these systems for potential fielding in the Army, and that's a huge responsibility."
Created to drive technology advances and network integration on the battlefield, the NIEs have incorporated Soldier feedback from the 2nd Brigade Combat Team, 1st Armored Division, stationed at Fort Bliss, into system design, performance and functionality.
For future NIE events, and the companion Joint Warfighting Assessment (JWA) exercises, the Army is rotating in different formations, providing new perspectives on how they use tactical networks and mission command systems for their unique missions.
For example, since light infantry units are often the first in to an operation and are often called upon to maneuver through restrictive terrain such as swamps, villages and mountains, having reliable communications at the platoon and company echelons is vital.
"The proliferation of communications systems down to increasingly lower levels of the chain of command facilitates flattening the organization so you can accelerate the speed of communication, which generates increased situational understanding of what's happening on the battlefield so you can gain response time," Carter said. "On a battlefield as complex as the one is today, where multiple things are happening, the speed of communications and having that common operating picture is just going to be essential to winning."
The 1-26 Battalion is now in the midst of training and integration activities at Fort Campbell before the actual event takes place at Fort Bliss in July. This year the NIE 17.2 features formal tests for the Warfighter Information Network-Tactical (WIN-T) Tactical Communications Node-Lite (TCN-L)/Network Operations and Security Center-Lite (NOSC-L), and the WIN-T Tri-Band Line of Sight (TRILOS). Several systems are also under informal evaluation, including electronic warfare prototypes for dismounted and mounted Soldiers.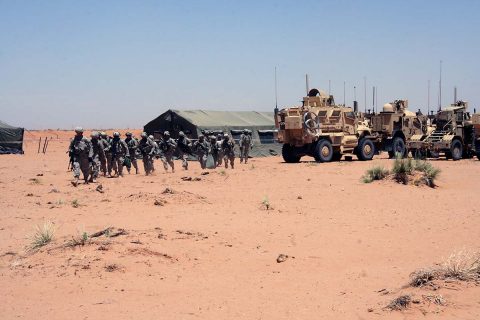 Sergeant First Class Frank Dill, the lead electronic warfare officer with the 2/101, said he is looking forward to evaluating mounted and dismounted prototype electronic warfare systems that enhance the ability to execute ground maneuver in contested environments. The prototypes are some of the first to come out of the Army Rapid Capabilities Office, which was established last year to accelerate capabilities to the field in response to urgent and emerging threats.
"Having these systems down at that lower level, we will be able to expedite the sensing and targeting process and engagement," Dill said. "At the NIEs, we'll get a much better understanding of, 'Will all these systems work together?' I think commanders will also start to really understand EW more and how it supports the fight."
The Army uses events such as the NIEs to refine capabilities, working to simplify systems for general purpose users. While complexities remain, the evolving technologies' operational effect has made a difference on the battlefield, Soldiers said.
Capt. Zachary Jones, 1-26 Headquarters and Headquarters Company commander, used communications equipment that had been evaluated at previous NIEs in his most recent assignment in Iraq. These included radios that passed routes digitally to Soldier-worn devices, eliminating the need to manually write out and disseminate routes; and the ability to take photos of potential targets and digitally pass them to the battalion intelligence officers for instant analysis.
"That's something we didn't have before, so I think that's critical to our fight and us as a light infantry being able to do what we do," Jones said. "This allows me to make decisions on the battlefield quicker. I think [the NIE] is a great opportunity, especially for us, to get a better understanding of these systems and then to say, 'Yes. This is it.'"
The Army continues to adapt the NIE and JWA construct. While the annual NIEs focus mainly on formal testing and evaluation of programs of record, the complementary JWAs provide an experimental environment to help assess and refine requirements and improve emerging capabilities in a joint and coalition environment. Both events work to promote innovation, modernization, readiness, training and developing capabilities for the future force, as well as generate feedback on tactics, techniques and procedures.
Next spring, the JWA will take place in Europe.