Nashville, TN – Nashville Zoo invites wine lovers to Red, White and Zoo on Friday, July 28th, 2017 at 7:00pm. The social event takes patrons on an evening stroll through parts of the Zoo as they enjoy unlimited wine tastings from around the world.
At Red, White and Zoo, guests can wander the Zoo trails while enjoying unlimited samples of wine. The Zoo's Masai giraffe, Caribbean flamingo, meerkat exhibit and more will all be open until sundown with keepers available to answer guests' questions. Other activities for the evening include live music, special animal encounters and food available for purchase through local vendors.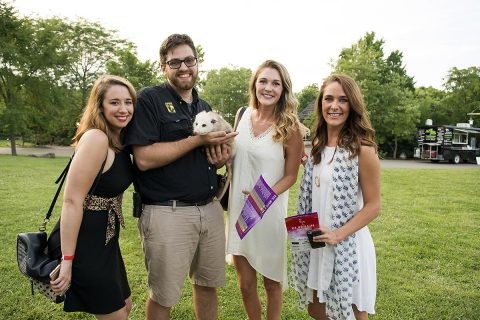 VIP tickets include food bites paired with select wines and unlimited rides on carousel and access to VIP Lounge.
General admission tickets for Red, White and Zoo are $65.00 per person and VIP tickets are $100.00. Groups purchasing four or more tickets together are available for a discounted rate. There are also a number of limited Designated Driver tickets available for $25.00. Proceeds from Red, White and Zoo go towards our annual operational fund.
For more information and to purchase tickets, visit nashvillezoo.org/wine.
Nashville Zoo would like to thank our supporting sponsors AJAX Turner Co, Inc., Jive Printing, Irwin Entertainment, Lyft, Yelp and M&M Rentals.
About Nashville Zoo
Nashville Zoo is a nonprofit organization and an accredited member of the Association of Zoos and Aquariums, assuring the highest standards of animal care and husbandry. The Zoo is actively engaged in conservation research, habitat protection, breeding programs and education initiatives around the globe as well as in our own backyard.
Celebrating 20 years at Grassmere, the Zoo attracts more than 890,000 visitors annually and is considered one of the top attractions in Nashville. Nashville Zoo is located at 3777 Nolensville Pike and is open every day except Thanksgiving, Christmas and New Year's Day.
For more information about Nashville Zoo, visit nashvillezoo.org