Clarksville, TN – The Clarksville Police Department announces that applications are now available for the upcoming Citizen's Police Academy (CPA) class. The class will start on March 6th, 2018, and the graduation date will be on May 29th, 2018.
They will held on Tuesday evenings for 12 weeks (not including spring break week). The CPA class covers all facets of the Clarksville Police Department's activities, from administration to tactical operations.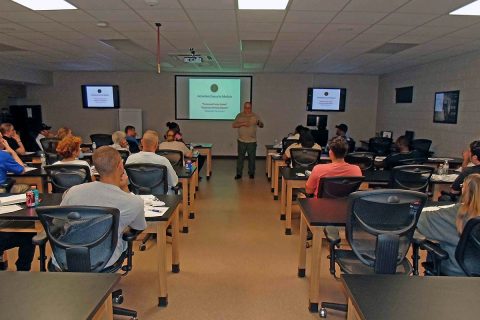 Citizens are given an opportunity to not only learn about the Clarksville Police Department functions, but also given a chance to participate in activities such as police vehicle operations, firearms instruction, self-defense techniques, and use of force decision-making exercises.
The class is free of charge, and you can download the application from the link below.
Once you have filled out the application, you can return it to the address listed on the application, or you can pick up an application at Police Headquarters located at 135 Commerce Street.
CPA Application link: http://www.cityofclarksville.com/modules/showdocument.aspx?documentid=792
Link About the Citizen's Police Academy- http://www.cityofclarksville.com/index.aspx?page=442
If you have any questions, please contact Officer Gregory Granderson at 931.648.0656, Ext. 5239.