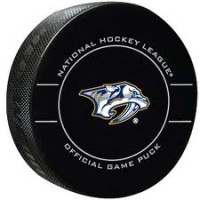 Clarksville, TN – The Nashville Predators rebounded from a disappointing loss to the Minnesota Wild last night with a resounding shutout win at Bridgestone Arena, 3-0.
With the news that Filip Forsberg had been placed on injured reserve earlier in the day, there was an ominous cloud hanging over Smashville when the puck dropped at 7:00pm.
Team officials had revealed the news about Forsberg earlier in the day, saying only that he had an upper body injury and further evaluation was needed to determine how long he would be out of the line up.
Nashville recalled Frederick Gaudreau from the Milwaukee Admirals to fill the roster spot.
This was the first game Forsberg had missed since April 13th, 2014, ironically against Minnesota. Head coach Peter Laviolette would only say, "He left with a problem" after Forsberg left last nights game with 8:40 remaining.
The Predators seemed to be extremely motivated when they hit the ice, having been challenged by Laviolette after last nights loss.
With Juuse Saros in goal, and Forsberg out of the lineup, Nashville knew they needed to step up in all areas of the game if they expected to avoid back-to-back losses.
It was a back and forth contest for the first two periods, with no score to show for either team.
That changed at 2:23 of the third period, when veteran Scott Hartnell lit the lamp for Nashville, giving the Predators a 1-0 lead. It would prove to be the game winner.
After Minnesota committed their fifth penalty of the game, Nashville capitalized, as P.K. Subban blistered the one-timer from the point, for the 2-0 Predator lead.
The final score was a result of an empty-netter from Viktor Arvidsson with 2:20 remaining in regulation.
Nashville's stellar back-up goalie, Juuse Saros, picked up his second shutout of the season, blocking 29 shots on the night. Saros blanked the Chicago Blackhawks earlier this year.
The Predators will head West when they land in Las Vegas for a Tuesday night rematch with the Golden Knights, led by former Predator James Neal, who defeated Nashville 4-3 on December 8th.