Clarksville, TN – The New Gallery at Austin Peay State University, with support from the APSU Center of Excellence for the Creative Arts and the Department of Art + Design, will present Yvette Cummings: Splendor & Fault, to continue an exciting 2017-18 exhibition season.
The exhibit opens Monday, February 19th, in the Art + Design Building's The New Gallery, and runs through March 23rd.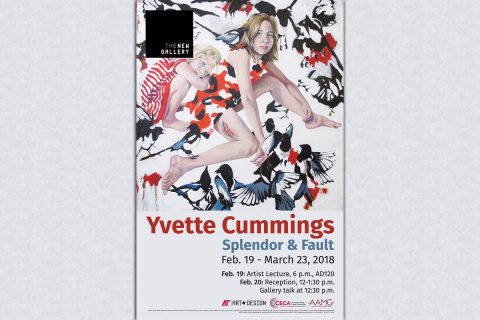 Cummings will deliver a public lecture on her work at 6:00pm on February 19th, in the Art + Design Building's Heydel Hall.
An opening reception will take place the following day, February 20th, from noon–1:30pm, and a gallery talk with Cummings beginning at 12:30pm. All events are free and open to the public.
Cummings comes to The New Gallery from Conway, South Carolina, and she is the recent recipient of the 701 CCA Prize—a biennial prize awarded by 701 Center for Contemporary Art that identifies and recognizes young South Carolina artists. As a talented painter, Cummings is using her art to open dialogue and have sometimes-difficult conversations regarding child abuse, adolescence and maternal struggles.
"As I watch my children build the memories of their short lives, I find myself grasping for fragments of my childhood," Cummings said. "I am witness to the innocence of youth and reflect on my memories with adult eyes. Memories are built from photographs, stories told and evidence left on our bodies. This work presents a moment of transition between the abuses of the past and the joys and fears of present life. My abuse happened as a child; now as the mother of three young girls I confront my trauma in new ways.
"Memory, it is said, is never of the actual event, but a memory of the last time you recalled that event. It took many years of recollection to make it to today. I am more than just my trauma, but the effect is lasting. My work combines experiences of recalled child abuse, adolescence and maternal struggles. I use damask and floral patterns to flatten the spatial aspects of the work. This motif creates a visual abstraction and represents the confusion that occurs over time and space in recollection."
Michael Dickins, director of The New Gallery, said, "I've been following Yvette's work for years and recognized that she was on the verge of a major launch in her career, so I approached Yvette a couple years ago when developing gallery programming for the new building. Watching her grow not only a visually stunning body of work, but cultivate an artistic voice that is extremely personal has been both heartbreaking and inspiring. I am extremely excited and proud to be able to bring Yvette and her work to The New Gallery, Austin Peay State University and the surrounding community. Abuse is a hard topic to talk about, but it is important that we talk about it, and this work allows for those conversations to be had."
Yvette L. Cummings received her Master's of Fine Arts degree at the University of Cincinnati's School of Design, Art, Architecture, and Planning. While still enrolled at DAAP she was director of the 810 Gallery, interned at the Contemporary Art Center of Cincinnati, and was the recipient of the Wolfstien Travel Fellowship to Spain.
Following her graduate work, Cummings became an instructor for the University of South Carolina Department of Art. She was awarded the Stephen J. Dalton Teacher of the year from the university in 2011. Cummings is currently a Teaching Associate at Coastal Carolina University in Conway, South Carolina. Her work has been exhibited in multiple group and solo exhibitions throughout the south and midwest.
Her work can be found in both public and private collections and has been featured in the 701 Center for Contemporary Art 2015 South Carolina Biennial in Columbia, as well as Contemporary South at Visual Art Exchange in Raleigh, North Carolina. Cummings was most recently the recipient of the 701 CCA Prize 2016 for South Carolina artists under 40. She currently resides in Conway, South Carolina, where she devotes her time to her studio work, teaching and family.
For more on Yvette Cummings and her work, visit: www.yvette-cummings.com
Hours for The New Gallery are Monday – Friday, 9:00am–4:00pm. Closed on weekends and holidays, and follows the university's academic calendar.
For more information on this exhibition, which is free and open to the public, contact Dickins at