APSU Sports Information

Louisville, KY – Austin Peay State University women's tennis team could not overcome Louisville, as they fell 6-1, Friday, at the Bass-Rudd Tennis Center.
The Govs (1-5) faced another uphill battle from the start as they once again took to the court with only five players.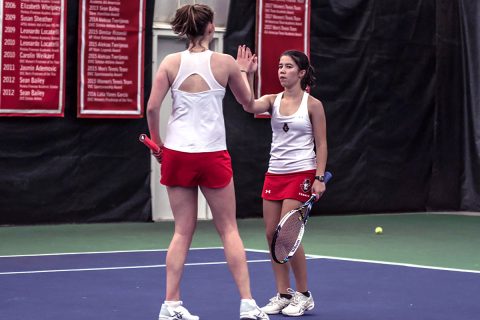 The Cardinals (12-1) came in boasting one of the nation's best records in doubles, and they won both contested matches in doubles, along with the automatic victory at No. 3 doubles to clinch the doubles point.
After the Cardinals got another automatic point due to forfeit at No. 6 singles, they reeled off straight-set wins at No. 4 and No. 5 singles to clinch the match.
However, Lidia Yanes Garcia did manage to win at No. 1 singles over Alexsandra Mally (7-5, 6-3) to claim the Govs' lone point. Louisville also won at No. 2 and No. 3 singles to close out the proceedings.
Austin Peay returns to action at home, 11 a.m, Saturday, at IUPUI.
Box Score
Louisville 6, Austin Peay 1
Doubles
1. Sena Suswam/Raven Neely (LOU) def. Fabienne Schmidt/Lidia Yanes Garcia (APSU) 6-2
2. Aleksandra Mally/Ariana Rodriguez (LOU) def. Helena Kuppig/Brittney Covington (APSU) 6-0
3. Abbie Pahz/Tiffany Huber (LOU) def. No player/No player (APSU), by forfeit
Singles
1. Lidia Yanes Garcia (APSU) def. Aleksandra Mally (LOU) 7-5, 6-1
2. Abbie Pahz (LOU) def. Fabienne Schmidt (APSU) 6-2, 6-2
3. Tiffany Huber (LOU) def. Helena Kuppig (APSU) 3-6, 6-3, 1-0 (10-7)
4. Raven Neely (LOU) def. Ana Albertson (APSU) 6-0, 6-2
5. Maya Smith (LOU) def. Brittney Covington (APSU) 6-0, 6-1
6. Ariana Rodriguez (LOU) def. No player (APSU), by forfeit
Order of finish: Doubles (3,2,1); Singles (6,5,4,1,2,3)