Clarksville, TN – After 30 years as a studio artist, Paul Collins now works exclusively in public spaces.
For each of new project, the Austin Peay State University associate professor of art spends two weeks painting at sites chosen for their history, politics or public use. This March, Collins will present seven of these projects in a new exhibition, "Fortnight Session," at Zeitgeist Gallery in Nashville Tennessee.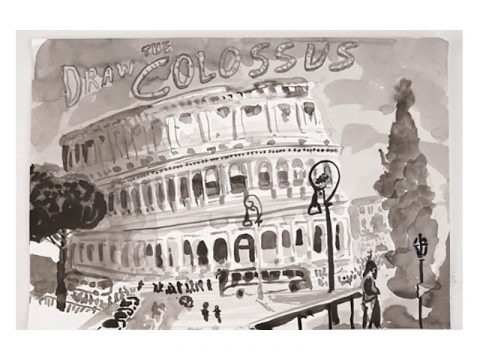 The exhibition, which opens with a reception from 6:00pm-8:00pm on March 3rd, will be on display until March 31st.
"For this exhibition I will present drawings from 14-day residencies at a diverse roster of locations: Rome, Italy, where the process began; at Nashville's Fort Negley; a local gas station; the Metro County Court complex; Grimey's Basement; and a local farm," Collins said. "For each location I have found it amazing how wonderfully uncontrollable it is to make an on-site drawing by comparison to working in the crucible of the studio."
Collins was drawn to this method because he wanted to increase his own understanding of his surrounding community and that community's understanding of art. The duration of these projects – 14 days on, 14 days off – allowed him to incrementally develop the scope and tenor of this way of working as a continuing method in a rhythmic monthly manner.
"Working outside the studio has raised healthy questions about how one may control and create images, how one identifies themselves as a thinker and citizen, and the identity of my work as public voice and commerce object," he said.
For more information, visit the gallery's website at http://zeitgeist-art.com/.