APSU Sports Information

Atlanta, GA – In what has become a consistent pilgrimage to the Georgia Tech Invitational, Austin Peay State University track and field enjoyed a sterling weekend down south to begin the season's final stretch.
"Overall, I'm very pleased with our efforts this weekend," said head coach Doug Molnar. "We worked really hard this week on the track and in the weight room and accomplished what we set out to do."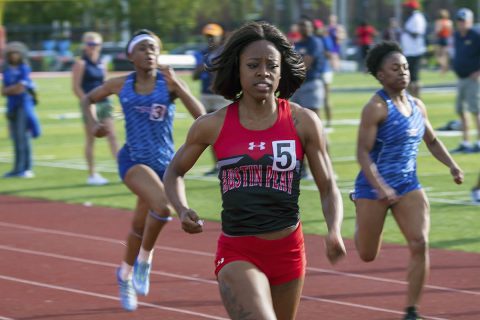 In late Friday action, sophomore Tymeitha Tolbert kicked off the event with a 12th-place finish in the 100m dash, running 11.96 to finish fifth as the lone collegiate competitor in the first heat; she was sixth overall among collegiate runners in the 57-runner race.
Also on Friday, junior Caroline Kiplagat powered through the 3,000m steeplechase event with an 11:29.32 that was oh-so-close to besting Kendra Kirksey's 2014 school record in the event. Kiplagat finished sixth at George C. Griffin Track, rocketing up to fifth in the Ohio Valley Conference standings in the event. The other (no relation) Kiplagat, Emmaculate, broke 18 minutes for the first time in the 5000m run, running Austin Peay's second-best time ever recorded in that event at 17:56.67.
Freshman Sabrina Richman had a dominant showing on the track Saturday; she began the day with a 13th-place showing in the 400m dash, racing down the track in 56.00 flat and followed that up with a 15th-place finish in the 73-runner 200m event, posting a 24.76 mark. Both were personal-bests for Richman, moving her to fourth in the league in the 400m and 10th in the 200m.
Just behind Richman in the 400m was senior Allysha Scott, whose 56.54 placed her 18th and is her first sub-57 second 400m mark since the 2016 OVC Outdoor Championships.
"I was really pleased with the 400m group," Molnar said. "They're getting better all the time. Caroline was great in the steeple; she's poised to run something big at OVC."
Tolbert, sophomore Diamond Battle and freshmen Maya Perry-Grimes and Lennex Walker placed fourth in the 4x100m relay, hitting 46.71 to finish three-tenths of a second outside the top-three. Walker also placed 17th in the 100m hurdles with a 14.43 mark, her second-best this season.
Over in field event action, junior Savannah Amato cleared 13 feet once again in the pole vault, finishing second at 4.04m (13-3.00); both Morgan Bradley and Dascha Hix hit 3.59m (11-9.25), with Bradley tying or sixth and Hix finishing 10th via attempts.
Perry-Grimes had a busy weekend; in addition to her 4x100m relay work, she was 18th in Friday's long jump (5.31m; 17-5.25), while she posted a 14th-place showing in Saturday's triple jump, leaping 11.41m (37-5.25). Elsewhere in the jump pits, junior Nia Gibbs-Francis' 1.58m (5-2.25) high jump snared her a share of ninth.
"The goal was to have multiple people running multiple events over the weekend to simulate the conference meet," Molnar said. "It was a tough proposition with all the distance races being run Friday, but we've got good things ahead for us over the coming weeks."
The Govs return to action next week in the Bluff City for the Memphis Tiger Invitational, April 27th-28th.