Clarksville, TN – Clarksville Academy Prom 2018 was held at Hopkinsville's James E. Bruce Convention Center, with 158 students participating in this year's Grand March, followed by dinner, dancing, and a very special after-party.
CA's Amanda Pitt was one of the organizers of this year's event. She also had the honor of introducing the couples as they descended the elegant staircase, and stood before a crowd of hundreds of family members and friends.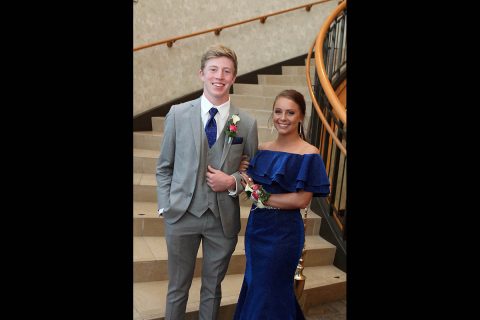 "We have more students this year, not only at the school, but at this year's Grand March as well," Pitt said. "I've been at the Academy for 12 years, and I certainly can't remember a bigger prom than this."
The theme for this year was Vintage Hollywood.
"Everyone has done a great job of decorating," Pitt said. "The room looks beautiful, with lots of gold and black to fit the theme. One of the reasons we came to the James E. Bruce Center is the size. But, also the staff here is great. They will do anything to make sure our needs are met. The kids love it, and they don't seem to mind the drive, once they are here."
After this year's Grand March, the couple's walked the red carpet into the main room. There they were joined by parents for a very special Father/Daughter – Mother/Son Dance. After the dance, parents were asked to leave, as students and their dates sat down to enjoy an elegant dinner.
Dinner ended at 8:00pm. Then, the dancing began.
"The dance portion of the evening will go until 11:00pm, Pitt said. "Then, everyone is heading to the after-party. This year it's being held at the new City Forum. They haven't officially opened yet, but they are opening for us, and we are so grateful to be one of the first groups in there.
"The students, and all of us are so excited for the opportunity. We have some great parents that really went above and beyond to make this happen for us."
Photo Gallery