City of Clarksville
Clarksville, TN – Mildred Johnson recently moved into a brand new home built at the same address where she had lived for nearly 50 years, thanks to the City of Clarksville's Housing Rehabilitation Program.
"Programs like Housing Rehabilitation are so rewarding and beneficial to our residents like Ms. Johnson," Clarksville Mayor Kim McMillan said.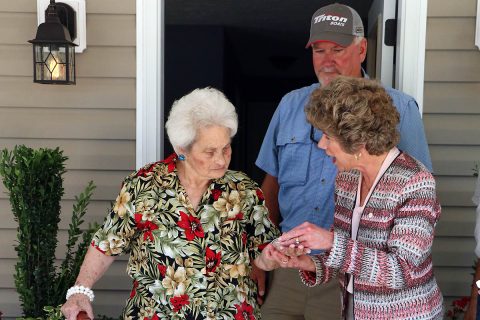 "We are able to use federal grant money and spread it to people who need some help. So this is a great day for this family and this neighborhood because of the caring and comprehensive efforts of our Office of Community and Economic Development," stated Mayor McMillan.
The program assists homeowners in making property improvements, such as correcting code violations and repairing and upgrading major housing systems.
In Johnson's case, what started out as rehabilitation work, turned into a complete rebuilding project, said Lisa Walker Townsend, project coordinator with Community and Economic Development.
"When we came out to do the final inspection before we started the work, we found a major water issue," Townsend said. "After additional inspections with an engineer, it was determined the foundation needed additional support, the walls needed to be replaced, and the land the home was built on had to be rezoned," Townsend said.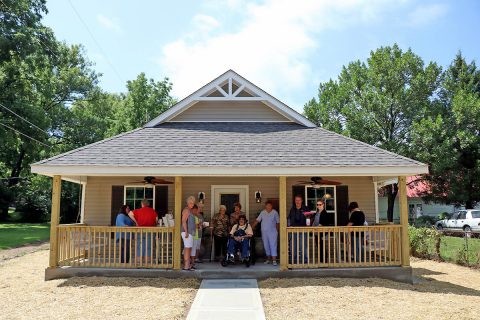 As the list of needs grew, City officials realized the home should be torn down and rebuilt from the ground up.
Typically homes in the rehabilitation program only take 90-120 days to complete. Johnson's took almost 11 months.
"It has been a long process because of the numerous hurdles," Townsend said. "She was out longer than we normally prefer, so we tried to make it as easy as possible for her during the reconstruction. It was very gratifying finally turning the keys over to her."
Because the amount of time spent and the memories made in her old home, Johnson initially was hesitant to participate in the reconstruction. After speaking with her family, who urged her to consider the safety of the home, she agreed to the rehab.
"I think the home is beautiful. They did a beautiful job with the construction," Johnson said.
To qualify for the program, under U.S. Department of Housing and Urban Development guidelines, applicants must live in the City, be income eligible, own the home for more than a year and occupy it as their primary residence.
Money for the program comes from the U.S. Department of Housing and Urban Development Community Development Block Grant Program. Federal rules limit eligibility to low and moderate-income households.
"The City also provides emergency repairs in another part of the program," Townsend said. "For example, if a tree falls on your roof and your insurance won't cover it, you can apply through this program and if accepted, we can help with repairs."
Assistance is provided on a "first come, first served" basis. The program provides one-time assistance to qualified homeowners with emergency housing problems that pose a serious and immediate threat to the health, safety or welfare of the household. Up to $10,000 of assistance may be granted to correct emergency conditions.