Roxy Regional Theatre

Clarksville, TN – Legends Bank presents Rodgers and Hammerstein's masterpiece "Oklahoma!" at the Roxy Regional Theatre, beginning this Friday, July 27th, 2018 at 8:00pm. In keeping with the theatre's traditional pay-what-you-can opening night, all tickets not pre-sold at the regular ticket price will go on sale at 7:30pm that evening for a $5.00 minimum donation.
The high-spirited rivalry between cowboys and farmers in Western Indian territory, just after the turn of the century, provides the colorful background for love between handsome cowboy Curly (played by Hunter Brown) and winsome farm girl Laurey (Amy Laviolette).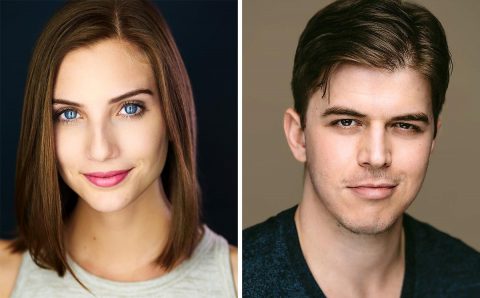 Although the road to true love never runs smoothly, with these two headstrong romantics holding the reins, love's journey is as bumpy as a surrey ride down a country road.
Blending song, ballet and "hoe-down" stepping, composer Richard Rodgers and lyricist Oscar Hammerstein II's initial collaboration features among its musical highlights "Oh, What a Beautiful Mornin'," "People Will Say We're in Love," "The Surrey with the Fringe on Top," "Many a New Day," "Kansas City" and the triumphant song of the brand new state, ""Oklahoma!""
Directed by Ryan Bowie and choreographed by Emily Rourke, "Oklahoma!" is based on the play Green Grow the Lilacs by Lynn Riggs and features original dances by Agnes de Mille. The cast also features Emily Rourke as Ado Annie, Matthew Combs as Will Parker, Jama Bowen as Aunt Eller, Stephen Shore as Jud Fry, Bryan Plummer as Ali Hakim, Donald Groves as Judge Andrew Carnes, Kelly Letourneau as Gertie Cummings, David Graham as Cord Elam, Ryan Bowie as Ike Skidmore, Drew Stairs as Fred, and Sebastian Fenton as Slim, with Briar Moroschak, Ross Outen, Emma Petrie, Lauren Proctor, Lexi Putter and Mimi Sears in the ensemble.
Patrons are invited to a "Box Social" before the evening performance on Saturday, August 11th. The event features a pre-show cookout and box social under the marquee at 6:30pm, including hamburgers, hot dogs and sides, followed by a box social with desserts prepared by Laurey, Aunt Eller, Ado Annie and the whole cast and auctioned off by Judge Andrew Carnes.
Attendees are also encouraged to bring their own homemade desserts to auction off, with proceeds benefiting the Roxy Regional Theatre. Tickets for the package, which includes the 8:00pm performance of "Oklahoma!", are $40.00 (adults) and $25.00 (ages 13 and under). The reservation deadline for the box social is Friday, August 3rd.
"Oklahoma!" is presented through special arrangement with R&H Theatricals, with musical recordings provided by The MT Pit, LLC.
In addition to Legends Bank, funding support for "Oklahoma!" has been provided by Mark & Ricki Holleman, Sal & Andrea Herrera, Barbara & Larry Goolsby, James G. Holleman, Melinda Kelly-Major, Bradley & Lisa Martin, Gary & Janet Mund and David & Marianne Straka.
Performances run July 27th through August 18th on Wednesdays and Thursdays at 7:00pm and Fridays and Saturdays at 8:00pm, with 2:00pm matinees on Saturday, August 4th, and Saturday, August 18th.
Tickets are $25.00 (adults) and $15.00 (ages 13 and under) and may be reserved online at www.roxyregionaltheatre.org, by phone at 931.645.7699, or at the theatre during regular box office hours (9:00am to 2:00pm, Monday through Friday, and one hour prior to curtain). APSU students, military and CitySaver coupon holders can receive two tickets for the price of one to Wednesday and Thursday performances during the run.
About the Roxy Regional Theatre
The Roxy Regional Theatre is a 501(c)(3) nonprofit organization dedicated to producing professional live theatre and promoting the arts, with emphasis on education, in Clarksville, Middle Tennessee and the Southeast. The theatre is located at 100 Franklin Street in Historic Downtown Clarksville.
For more information, visit www.roxyregionaltheatre.org