Austin Peay State University Sports Information
Kansas, MO – For a second straight match, senior Cecily Gable tied a career high with 17 kills, as Austin Peay State University's volleyball team outlasted South Dakota State to win in four sets (25-21, 26-24, 22-25, 25-17) in Match 3 of the UMKC Kangaroo Klassic, Friday, at Swinney Recreation Center.
Austin Peay (2-0) fell into deficits in each of the first three sets and was able to recover to win the first two sets.
The Govs needed a 7-2 set-ending run to win the first set then had to fend off a South Dakota State set point chance in the second, winning four straight points to secure a 2-0 lead.
South Dakota State (0-2) would not allow Austin Peay to close out the match in three sets, taking an early lead in the third frame. The Jackrabbits build a seven-point lead at 18-11 and maintained the advantage to claim the set.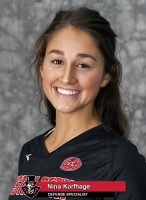 The Governors responded with a dominant opening to the fourth set. Austin Peay won eight consecutive points on Nina Korfhage's serve to build a 10-2 lead. The Governors would later use a pair of three-point runs to solidify their lead en route to claiming the match victory.
Gable;s 17-kill performance paced Austin Peay's 59-kill outing. Junior Jenna Panning added 10 kills and four blocks. Freshman Karli Graham chipped in six kills and six blocks in her first collegiate outing.
Ashlynn Smith and Sydney Andrews each had 12 kills as the Jackrabbits finished with 48 kills.
Austin Peay concludes its stay in Kansas City with a 1:30pm, Saturday contest against host UMKC.
Set-By-Set
Set 1, Govs Win 25-21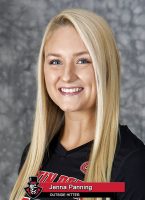 South Dakota State opened with a 3-1 run and maintained that slim lead until it rattled off six consecutive points, including three consecutive service aces, to build a 13-7 lead. Austin Peay turned the tables quickly, winning 10 of the next 12 points to claim a 17-15 lead.

The Governors would take control with four straight points late, Gable providing a punctuating kill for a 22-19 lead the Govs would not relinquish.

Set 2, Govs Win 26-24
For a second straight set, SDSU broke out to the early lead and maintained a slim margin through 12-10. Austin Peay took its first lead of the set, 13-12, on three-straight points but could not string together enough points to build a safe lead.

The Jackrabbits got to set point at 24-22 on a Makenzie Hennen kill, but Gable responded with a kill to stop the rally and jump start a four-point Austin Peay run that ended the set.

Set 3, Jackrabbits Win 25-22
Austin Peay scored three of the third set's first four points but could not sustain its early momentum. South Dakota State scored nine of the next 11 points to build a 10-5 lead. The Governors tried valiantly to close the gap late, getting within two points at 22-20, but could not get all the way back.

Set 4, Govs Win 25-17
The Governors woke up after losing the third and used a massive 8-0 run to gain early control of the fourth. Nina Korfhage served up the eight-point burst with SDSU committing four attack errors as the Govs took a 10-2 lead. The lead hit 10 points late after a three-point APSU run that included another Gable kill as Austin Peay eased to the win.
Austin Peay Govs, Notably
Back-To-Back 17s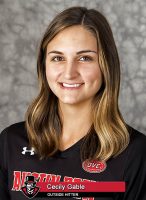 After a 17-kill outing against Western Michigan to open the season, Gable posted another 17-kill effort against South Dakota State. She now has 34 kills in the season's first two matches, averaging an impressive 4.86 kills per set on the opening day.
Panning Ties Career Mark
Panning tied her own career high with 10 kills against South Dakota State. It matched the mark she set against SIUE last October.
Stucker Joins The Parade
Senior Kristen Stucker also tied her career high with five kills against SDSU. She also had 45 assists, 10 digs and three blocks.
Sections
Sports
Topics
APSU, APSU Athletics, APSU Sports, APSU Volleyball, APSU Women's Volleyball, Austin Peay State University, Cecily Gable, Jenna Panning, Karli Graham, Kristen Stucker, Lady Govs, Nina Korfhage, Ohio Valley Conference, OVC, South Dakota State, UMKC, UMKC Kangaroo Klassic