Austin Peay State University Sports Information

Charleston, IL – Austin Peay State University (APSU) women's soccer team suffered another close defeat at the hands of Eastern Illinois, 1-0, Sunday, on the road.
The Govs (6-4-1, 1-2-1 OVC) started out on the front foot, having the first four shots of the game, two of which forced saves out of EIU's keeper Sara Teteak.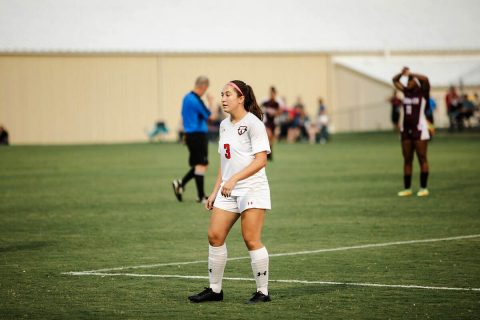 The Panthers (3-5-3, 2-1-1 OVC) gradually grew into the game and then hit the crossbar in the 30th minute. At one point in the game, the Govs did not have a shot for 42 minutes.
The Govs once again started well in the second half and routinely broke up EIU attacks. Claire Larose had a couple of shots go wide and high as she led the team in shots with five. It appeared as the goal was coming for the Govs, but the ball would not go in. Renee Semaan then hit the crossbar in the 66th minute and Larose followed up with a shot that went wide.
However, it was not to be for the Govs as EIU's Kayla Stolfa scored in the 72nd minute and what proved to be the game-winner. It was EIU's only shot of the half.
The Govs pressed for the equalizer, having three shots and two corners after EIU's goal, but the efforts were to no avail, as EIU held on for a 1-0 victory.
APSU Notably
The Govs fall to 6-9-2 against the Panthers all-time
The Govs are now 6th in the conference standings
The Govs outshot the Panthers and had more corner kicks
Head coach Naomi Kolarova has used a changed starting lineup in every game but one this season
Naomi Kolarova's Thoughts
On the match
"We didn't play well for much of the game today. We made similar mistakes to Friday, we got beat to the ball, their first step was quicker than ours, and we gave up possession too easily. We outshot them and had the advantage in terms of attacking opportunities, but we did not make them count today. Two of 11 on target is not going to translate into goals. We have to be more disciplined than that with chances."
On road matches
"Something about being on the road does not sit right with us, so the challenge is learning to be able to step off the bus and play on a field we're not comfortable on. You just have to work that much harder during the 90 minutes to make something happen. We need to make that a priority for our next away game."
On the future
"Right now we will reassess our system and players, watch film from the weekend and work on being better next weekend. We have to take it one game at a time. The players are great about staying positive and boosting each other too. We want them to see the big picture and not dwell too much, so they are able to give us 100%."