Austin Peay State University Sports Information

Dallas, TX – Highlighted by two wins each from freshman Danielle Morris and senior Claudia Yanes Garcia, Austin Peay State University women's tennis team began play at the SMU Invitational, Friday.
Morris and Yanes Garcia were joined by Fabienne Schmidt as the three Govs who won their singles matches.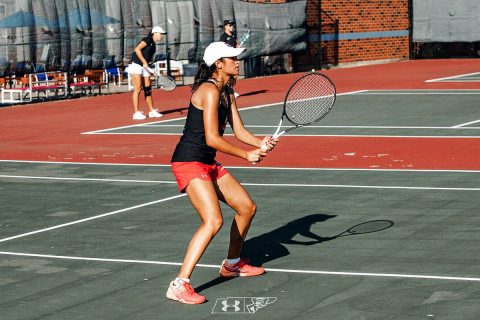 Morris, playing in the No. 6 singles draw, defeated Middle Tennessee's Marta Peris Herraro in straight sets, 6-3, 6-4. Yanes Garcia (No. 3 draw) defeated SMU's Liza Buss in three sets, 6-3, 6-7 (5), 6-3 and Schmidt (No. 2 draw) also took care of an SMU opponent in Sarai Monarrez Yesaki, 6-3, 6-4.
The Govs also had a bit of success in doubles with the twin duo of Claudia and Lidia Yanes Garcia beating Momoka Horiguchi and Nanaka Takeuchi of UT-Arlington, 6-4, in the No. 2 doubles draw. Morris teamed with Helena Kuppig in the No. 4 draw to earn a victory over Katherine Jakeway and Emma Pieroni, 7-5.
The Govs continue both singles main and consolation draw play, as well as doubles play, Saturday morning at around 11:00am.
Results
No. 1 singles draw
Janina Braun (Mississippi State) def. Lidia Yanes Garcia (APSU) 3-6, 6-4, 6-2
No. 2 singles
Camille Townsend (TAMU- Corpus Christi) def. Tatiana Lopez (APSU) 6-4, 6-4
Fabienne Schmidt (APSU) def. Sarai Monarrez Yesaki (SMU) 6-3, 6-4
No. 3 singles
Claudia Yanes Garcia (APSU) def. Liza Buss (SMU) 6-3, 6-7(5), 6-3
No. 5 singles
Stephanie Belovukovic (Houston) def. Helena Kuppig (APSU) 6-1, 0-6, 7-6(5)
No. 6 singles
Danielle Morris (APSU) def. Marta Peris Herraro (MTSU) 6-3, 6-4
No. 1 doubles draw
Sarai Monarrez Yesaki/Tiffany Hollebeck (SMU) def. Tatiana Lopez/Fabienne Schmidt (APSU) 6-4
No. 2 doubles
Lidia Yanes Garcia/Claudia Yanes Garcia (APSU) def. Momoka Horiguchi/Nanaka Takeuchi (UTA) 6-4
No. 3 doubles
Danielle Morris/Helena Kuppig (APSU) def. Katherine Jakeway/Emma Pieroni (SMU) 7-5