APSU Sports Information

Morehead, KY – Austin Peay State University (APSU) women's soccer team could not capitalize on an opportunity to cement themselves in the top of the Ohio Valley Conference, falling 1-0 to Morehead State, Sunday, at Jayne Stadium.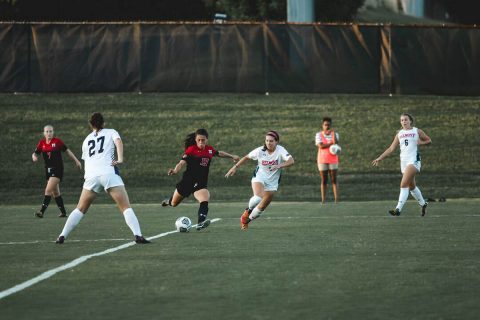 The Govs (8-5-1, 3-3-1 OVC) started the day in fourth place in the OVC, but will wait until the end of the day to find out where they come in the newest edition of the standings. Morehead State (3-11, 2-4 OVC) started the day tied for last, but will rise up some places after the win.
The Eagles turned the first real chance into a goal, as Dani Wilson capitalized on a defensive mistake and fired into the far corner to give the Eagles a 1-0 lead in the 6th minute.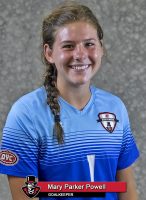 Morehead State kept up the pressure and had a couple more shots, including one that Mary Parker Powell had to be alert of. Ashley Whittaker gave the Govs some energy, taking two shots in quick succession, one of which was saved.
The APSU Govs continued to grow into the game with Caroline Wistrom having a shot saved and Renee Semaan having a shot blocked.
Around ten minutes before halftime, Amber Bateman got into a good position, with her shot blocked, and on the ensuing corner Semaan's header went agonizingly high.
The second half started like the first, with Morehead State doing more of the aggressive attacking, taking four shots inside the half's opening ten minutes. Shelby Stewart had a good chance in the 55th minute, but her shot was saved.
The Govs continued to press for an equalizer, but the Eagle defense held strong and won the match with a 1-0 shutout.
The Govs return to action next Friday as they host rival Murray State in the Heritage Bank Battle of the Border.
APSU Notably
The Govs were outshot, but led in shots on goal
The Govs are yet to score a goal in three conference road matches
APSU fell to 3-12-2 all-time against the Eagles, despite winning the previous two matches
The last road conference win for the Govs came in 2016 against UT Martin
Naomai Kolarova's Thoughts
On the match
"They (Morehead) capitalized on our defensive mistakes in the first minutes and as a team we could not overcome that. We battled but we did not put away our chances in front of the goal. Their goalkeeper played high up the field as well, clearing a lot of our through balls. We failed to fight in the middle of the park to possess the ball like we do at home, so they were able to gain momentum against us and keep us on the back foot. Credit to Morehead State who came ready to play, wanting to win, and doing what it took."
On the OVC
"We have to refocus now and put this one behind us. We are looking toward next weekend where we have Murray and UT Martin, the top two teams in the OVC right now. We must re-energize quickly and prepare ourselves to show up for those big games."